Basic Details of CA Foundation Course 2023
CA Foundation
Registration, Fees & Exam Details Etc.
Exam Name
CA Foundation 2023
Conducting Body
Institute Of Chartered Accountants of India (ICAI)
Level Of Exam
National Level (First Step In CA Journey)
Eligibilty
Candidates who wish to pursue Chartered Accountancy Course can register for Foundation Course after passing Class 10th examination.
Yes, You are eligible For Registration in CA Foundation even if you are From Arts, Science, or Maths Background
CA Foundation Registration fees
₹9,000 (Registration Fees ) + ₹200 (Prospectus) + ₹200 (Subscription for student's Journal (for one year ) (optional))
Registration Mode
Online
Syllabus
Paper 01 – Accounting – 100 Marks (Subjective Type Exam)
Paper 02 – Business Laws – 100 Marks (Subjective Type Exam)
Paper 03 – Quantitative Aptitude – 100 Marks (MCQs Type)
– Business Mathematics
– Logical reasoning
– Statistics
Paper 04 – Business Economics – 100 Marks (MCQs Type)
Exam Mode
Offline (Paper Based)
Medium of Exam
English/ Hindi(English compulsory for Section B of Paper 2)
Exam Dates
May/June 2023 & Nov 2023 (Twice In a Year)
CA Foundation Registration 2023
---
---
CA Foundation Complete Detail: Everything you need to know about.
The CA Foundation Registration 2023 is the first step towards becoming a Chartered Accountant in India. To be eligible for registration, you must have passed your class X exams from a recognized examining body in India or an equivalent exam recognized by the government. Once you have completed your senior secondary (10+2) exams, you can take the Foundation Exam after a minimum of 4 months of study time. The exam is held twice a year, in May or November, and your registration is valid for 3 years with an option to renew.
If you are a graduate or postgraduate or have passed an Intermediate level exam by recognized institutes, you are exempted from the Foundation Course and can directly register for the Intermediate Course. The Foundation Course has four papers, including two subjective and two objective type papers. Incorrect answers are negatively marked.
To learn more about the exam, including proposed exam centers in India and abroad, you can visit the Institute's website or check notifications/announcements in newspapers.
Click Here to Check the Official Link of ICAI Regarding the Same
---
CA Foundation Registration 2023 – Important dates
| Events | May/June dates | November/December 2023 |
| --- | --- | --- |
| Last date to register for CA Foundation under existing scheme | January 1, 2023(Closed) | July 1, 2023 |
| Commencement of Registration and Conversion in Foundation Course under New Scheme | Not applicable | August 2, 2023 |
| CA Foundation exam form | February 3, 2023 | To be notified |
| Last date to fill CA Foundation exam form(without late fees) | February 24, 2023 | To be notified |
| Last date to fill CA Foundation exam form(with late fees) | March 3, 2023 | To be notified |
| CA Foundation exam | June 24, 26, 28 and 30, 2023 | To be notified |
*Changes in the dates will be notified based on official ICAI's notification.
Eligibility For CA Foundation Registration 2023-24
India's government changed the rules for enrolling in the Chartered Accountants Foundation Course. Now, students who passed their class X exams can provisionally enroll. To qualify for admission in 2023, students need to meet the CA Foundation eligibility criteria.
Provisional Registration:
If you pass the Class X or equivalent exam from a recognized examining body in India or an exam accepted by the Central or State Government as equivalent, you are eligible to enroll in the CA Foundation Course.
Regular Registration:
To enroll in the CA Foundation Course as a regular candidate, you must pass the Class XII exam. After passing, you can appear in the CA Foundation Exam. Graduates can skip the Foundation Exam and directly enroll in the CA Intermediate Course.
ADMISSION TO FOUNDATION EXAMINATION
Candidate shall be admitted to Foundation Examination, if:

He is registered on or before 4 months prior to the month of Foundation Examination to be held in the month of May/November or June/December respectively as decided by the Council and
He has appeared in Senior Secondary (10+2) examination conducted by an examining body constituted by law in India or an examination is recognized by the Central Government or the State Government as equivalent thereto (Annexure A).

Candidate shall pay Examination fees, as may be fixed by the Council for Foundation Examination.
Annexure A
List of Examinations treated as equivalent to Senior Secondary Examination
Board of Intermediate Education, Andhra Pradesh
Assam Higher Secondary Education Council
Bihar School Examination Board
Central Board of Secondary Education (CBSE)
Chhatisgarh Board of Secondary Education
Councilfor Indian School Certificate Examinations (CISCE)
Goa Board of Secondary and Higher Secondary Education
Gujarat Secondary & Higher Secondary Education
Board of School Education, Haryana
H.P. Board of School Education
J & K State Board of School Education
Jharkhand Academic Council
Government of Karnataka Department of Pre-University Education
Kerala Board of Higher Secondary Education
Maharashtra State Board of Secondary & Higher Secondary Education
Board of Secondary Education, Madhya Pradesh
Council of Higher Secondary Education, Manipur
Meghalaya Board of School Education
Mizoram Board of School Education
Nagaland Board of School Education
Council of Higher Secondary Education, Orissa
Punjab School Education Board
Board of Secondary Education, Rajasthan
Tamil Nadu State Board of School Examinations
Tripura Board of Secondary Education
U. P. Board of High School and Intermediate Education
Board of School Education, Uttarakhand
West Bengal Council of Higher Secondary Education
Chhattisgarh State Open School
MP State Open School
National Institute of Open School
Rajasthan State Open School
The West Bengal Council of Ravindra Open School
Banasthali Vidyapith
---
Step by Step Guide for CA Foundation Registration 2023-24
The registration process is online, and one-time successful registration will be valid for three years. The candidate can apply and appear for a maximum of six attempts.
ICAI has a centralised Self Service Portal to manage the process of registration and submit self-attested documents. Initial registration and subsequent administrative interactions throughout the life cycle of students covering Intermediate and Final courses are done through this portal and there is no need for personal visit or submission of physical documents.
Candidate has to visit https://www.icai.org/post/students-services for the process of registration and click on the link – Entry level forms [Foundation and Intermediate (Direct Entry)]. Candidate will need a valid email address and mobile number to complete the OTP based registration process and submit softcopies of documents. After successful submission of forms, the documents will be verified and registration will be confirmed by the Institute. Candidate will also be provided details to order study material through the Centralised Distribution System portal
Documents Required for CA Foundation Registration 2023
Candidates should keep the scanned copy of the following documents before completing the registration of CA Foundation 2023:
Attested copy of class 12 examination admit card or marksheet
Attested proof of nationality (for foreigners)
Recent coloured photograph of the candidate
Attested proof of special category certificate ( for SC/ ST/ OBC candidates)
Attested class 10 exam admit card or certificate with name and date of birth of the candidate
Steps For CA Foundation Registration
Here is the Application Registration Form Link. You can go to the official CA Foundation Registration site by clicking here
IMPORTANT NOTE:
1. Please enter your SALUTATION , NAME, DOB, GENDER as per your 10th / 12th CERTIFICATE.
2. NO CHANGE ALLOWED AFTER FORM SUBMISSION.
3. Please enter applicant's own MOBILE NO. and E-MAIL id as all important communications and OTP will be sent to applicant.
4. You will get a separate mail communication from Centralized Dispatch System for Study Material, through SMS / Email in 2-3 days after making the successful payment.
5. International Mobile No will get OTP on email id.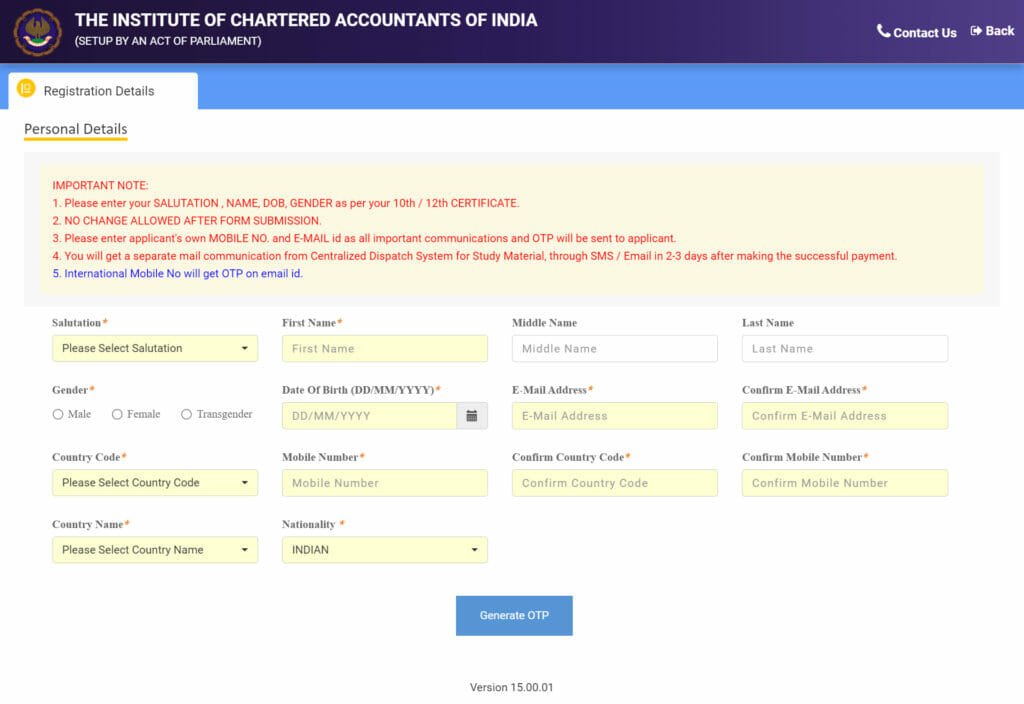 ---
CA Foundation Registration Fees 2023
Candidates need to pay the CA Foundation Registration fees to get themselves registered for CA Foundation exam 2023. The break-up of CA Foundation Registration fees is given below:
CA Foundation Registration Fees 2023 – Other than J&K And 8 North Eastern Indian States
| Particulars | Fee for Indian students(Rs) | Fee for Foreign students($) |
| --- | --- | --- |
| Cost of Foundation prospectus | Rs. 200 | $20 |
| CA Foundation Registration Fees 2023 | Rs. 9000 | $700 |
| Subscription for student's Journal (for one year ) (optional) | Rs. 200 | $20 |
| Subscription for member's Journal (for one year ) (optional) | Rs. 400 | $40 |
| Total | Rs. 9800 | $780 |
CA Foundation Registration Fees
CA Foundation Registration fees for J&K & NES (North Eastern States)
Note: ICAI has made some exceptions in CA Foundation Registration fees 2023. The Institute has allowed a 75% fee concession for the newly formed Union Territories of Jammu & Kashmir and the 8 North-Eastern states. Hence, students residing in these areas should pay the CA Foundation registration fees of Rs. 2,250
Candidates from Union Territories of Jammu, Kashmir and Ladakh, North – East States were given 75% concession in Registration Course Fee for Foundation (Rs 2250) level if they registered between . September 20, 2019 and March 31, 2022. The concession has now been extended from April 1, 2022 till March 31, 2025 and this concession is also applicable for Candidates from Andaman and Nicobar Islands registering from April 1, 2022 till 31st March, 2025.
Wards of deceased members have been given 75% concession in Registration Course Fee for Foundation (Rs 2250) level applicable from April 1, 2022.
The North Eastern Region (NER) comprises of eight States viz. Arunachal Pradesh, Assam, Manipur, Meghalaya, Mizoram, Nagaland, Sikkim and Tripura. – If you come from this beautiful part of India, then You have to pay 75% Less, CA Foundation Registration fees.
---
Validity of CA Foundation Registration
The CA Foundation exams are conducted twice a year. Once registered, the CA Foundation registration is valid for a span of three years which means six attempts. And after three years, candidates can revalidate their registration by depositing a fee of Rs. 300 as revalidation fees.
---
The Institute of Chartered Accountants of India (ICAI) has released the official CA Foundation Syllabus. Candidates can check the full syllabus and download the PDF for future reference. The exam has 4 papers, each with a 3-hour duration. To prepare well, candidates must understand the syllabus and exam pattern. This article provides complete details on the CA Foundation Exam Syllabus and Pattern, along with the PDF download link.
CA Foundation Papers
Paper
Subjects
Sections
Paper 1
ACCOUNTING (100 MARKS)
To develop an understanding of the basic concepts and principles of accounting and apply the same in preparing financial statements and simple problem solving.
Paper 2
BUSINESS LAWS (100 MARKS)
1. Indian Regulatory Framework
2. The Indian Contract Act, 1872
3. The Sale of Goods Act, 1930
4. The Indian Partnership Act, 1932
5. The Limited Liability Partnership Act, 2008
6. The Companies Act, 2013
7. The Negotiable Instruments Act, 1881
Paper 3
QUANTITATIVE APTITUDE (100 MARKS)
Part A: Business Mathematics (40 Marks)
Part B: Logical Reasoning(20 Marks)
Part C: Statistics (40 Marks)
Paper 4
BUSINESS ECONOMICS (100 MARKS)
1. Introduction to Business Economics
2. Theory of Demand and Supply
3. Theory of Production and Cost
4. Price Determination in Different Markets
5. Determination of National Income
6. Business Cycles
7. Public Finance
8. Money Market
9. International Trade
10. Indian Economy
Here is link of Study Material & Best CA Foundation Classes
CA Foundation Lectures on Massive Discounts – Click Here
CA Foundation Study Material & Books – Click Here
---
Step by Step fill CA foundation Exam Form – New Process
Step by step guidelines with full process
To fill out the form one has to visit https://eservices.icai.org and then click the self-service portal. Under which one has to fill in the password and login details.
One has to click the SSP portal login and then the dashboard will show the register for exam button on the exam function.
And then click on the foundation exam form, then there will be pop-up of foundation guidelines that one has to accept at the end.
You can also check student details and photographs/signatures. One needs to update the photo and signature first then only one can fill out the exam form. Click next.
After which there is a declaration form and click the I agree with box.
After which click next and there will be a payment gateway window where one needs to pay INR 1500.
After paying the exam fees, one can also download the exam receipt by clicking on the side button.
---
CA Foundation Exam Pattern
Requirements for Passing Foundation Examination
CA Foundation Exam Oriented Classes – Click Here
There is a set of 4 papers.
Paper 1 & Paper 2 will have subjective type questions.
Paper 3 & Paper 4 will have objective-type questions.
Each paper will carry 100 marks.
The maximum Time duration will be 3 hours.
There will be no negative marking on Paper 1 & Paper 2.
Paper 3 and paper 4 will have a negative marking scheme. 1/4th of the marks will be subtracted for each wrong answer.
Candidates have to get a minimum of 40% marks in each paper and a minimum of 50% marks in aggregate in all papers to pass the CA Foundation exam.
Exams will be conducted through Offline Mode.
Papers will be available in Hindi and English but Section B of Paper 2 will be conducted in English Medium only.
---
CA Foundation Admit Card
The admit card release date is not in the updated dates but we know that CA Foundation Admit Card will be available online on the official website. Candidates who have completed the Registration process, filled out and submitted the application, and completed the payment process in due time will get the admit card.
All the candidates can download admit cards from the official website by using their registration number and password. They also have to carry the same at the examination centre.
---
Requirements for Passing Foundation Examination
A candidate is declared to have passed the Foundation examination, if he obtains at one sitting a minimum of 40% marks in each paper and minimum of 50% marks in the aggregate of all the papers. Paper Numbers 1 & 2 will be subjective type while paper numbers 3 & 4 will be objective type with negative marking.
The Result will be also released on the official website. After appearing in the exam candidates will receive the result releasing date through SMS or Email.
Just like admit cards, Candidates can access and download their results by using the registration number and password on the official website. ICAI will also release a CA Foundation Merit List which will consist of details of the top 50 qualified candidates for the CA Foundation exam.
---
Is Calculator Allowed in Exams?
Yes, But Only Normal Calculator (Not Scientific)
Is CA Foundation Exam is Difficult?
No, If You Study Regular, And Practice Regular Then the exam is very easy. You have to believe this You already know the answer.
I'm not from Commerce background. Can I Register in CA Foundation?
Yes, You can Register in CA Exams. Commerce Background is Not Compulsory. There are many First Attempt Qualified CA's Who were not from the Commerce background.
Is there any Negative Marking In Exam?
There is no Negative marking in Descriptive Type Papers But, In MCQs Based Papers (Paper 3 & 4) There is 1/4 Negative marking.