NON-ACADEMIC ICAI UPDATE (NOT RELEVANT FOR EXAMS BUT FOR GENERAL AWARENESS)

Hello Everyone,
Please find the text of the 3rd National Online Quiz On Insolvency And Bankruptcy Code, 2016 notification below –
| | | |
| --- | --- | --- |
| | | |
| 1ST PRIZE: RS. 1,00,000 | 2ND PRIZE: RS. 50,000 | 3RD PRIZE: RS. 25,000 |
---
10 consolation prizes of Rs. 10,000/- each for next 10 best performers
Top 10% performers shall be awarded "Certificate of Merit"
Guidelines on National Online Quiz on IBC
The Insolvency and Bankruptcy Board of India (IBBI) is a key pillar of the ecosystem responsible for implementation of the IBC. It is responsible for development and regulation of insolvency professionals, insolvency professional agencies and information utility. It regulates various processes, namely, corporate insolvency resolution, corporate liquidation, fresh start, individual insolvency resolution and individual bankruptcy. It acts as the 'Authority' for regulation and development of the profession of valuers under the Companies (Registered Valuers and Valuation) Rules, 2017.

To promote awareness and understanding of the IBC Performance in the Quiz will be evaluated based on "Maximum Correct Answers in the Shortest Time". For example, if many individuals secure 20 marks, they will be ranked on the basis of the time taken to complete the Quiz, as electronically determined by MyGov. The individual, who has completed the Quiz at the earliest shall be considered the best performer. After ranking the individuals with score of 20, the individuals with score of 19 will be ranked, and so on.

The best performer will be awarded a Gold Medal along with a cash prize of ₹ 1,00,000/- (One lakh rupees only). The second-best performer will be awarded a Silver Medal along with a cash prize of ₹ 50,000/- (Fifty thousand rupees only). The third best performer will be awarded a Bronze Medal along with a cash prize of ₹ 25,000/- (Twenty five thousand rupees only). The next ten best performers will be awarded consolation prizes of ₹ 10,000/- (Ten thousand rupees only) each. These prizes and medals are sponsored by the BSE Investors' Protection Fund, as part of its investor awareness initiatives. These prizes and medals will be given away at an appropriate function to be decided by the IBBI.

Terms and Conditions:
The Quiz shall be open on the MyGov portal https://quiz.mygov.in for a period of one month from 16th April, 2022 to 15th May, 2022.

The Quiz is open to Indian citizens aged 18 years and above as on 16th April, 2022. Individuals working in IBBI and BSE Investors Protection Fund (permanent and contractual), service providers under the IBC and registered with IBBI and also their immediate family members are not eligible to participate in the Quiz. A participant is required to self-certify that he/she is eligible to take the Quiz and also that he/she abides by these terms and conditions.

A participant needs to register on the MyGov portal before taking the Quiz. For registration, the participant needs to submit a valid mobile number and a valid e-mail ID. The same mobile number or email ID cannot be used twice for registration. This means that a participant can participate in the Quiz only once. In case of same mobile number/email id being used multiple times, only the first entry will be considered eligible, and the remaining entries will be eliminated.

The Quiz is available both in English and Hindi. A participant may choose either of the languages.

The Quiz will have 20 (twenty) multiple choice questions, each carrying one mark. A participant will get 10 (ten) minutes to complete the Quiz. There will be no negative marking.

Any kind of malpractice such as, impersonation, double participation, etc., will render the participation of the individual null and void.
Besides the above, top 10% of the participants in terms of performance shall be awarded a "Certificate of Merit".

After the closure of the Quiz, and prior to the announcement of results, the winners of cash prizes will be required to provide their identity details. Non- submission of these details will render their participation null and void and the next best performer will be chosen accordingly. The entries, if any, of cash prize winners of 1st and 2nd National Online Quiz, organized by IBBI in 2020 and 2021 respectively, will not be considered for award of cash prizes.

All participants who are already registered on MyGov portal are advised to check and update their current, valid contact details (email ID and mobile number) in their MyGov profile/account, prior to playing the Quiz. All communications from the Board to the participants/ winners will be made only on the contact details available with MyGov in their system.

In case of any dispute, the decision of the IBBI shall be final.

By participating in the Quiz, the participant agrees to have read and accepted the above-mentioned terms and conditions.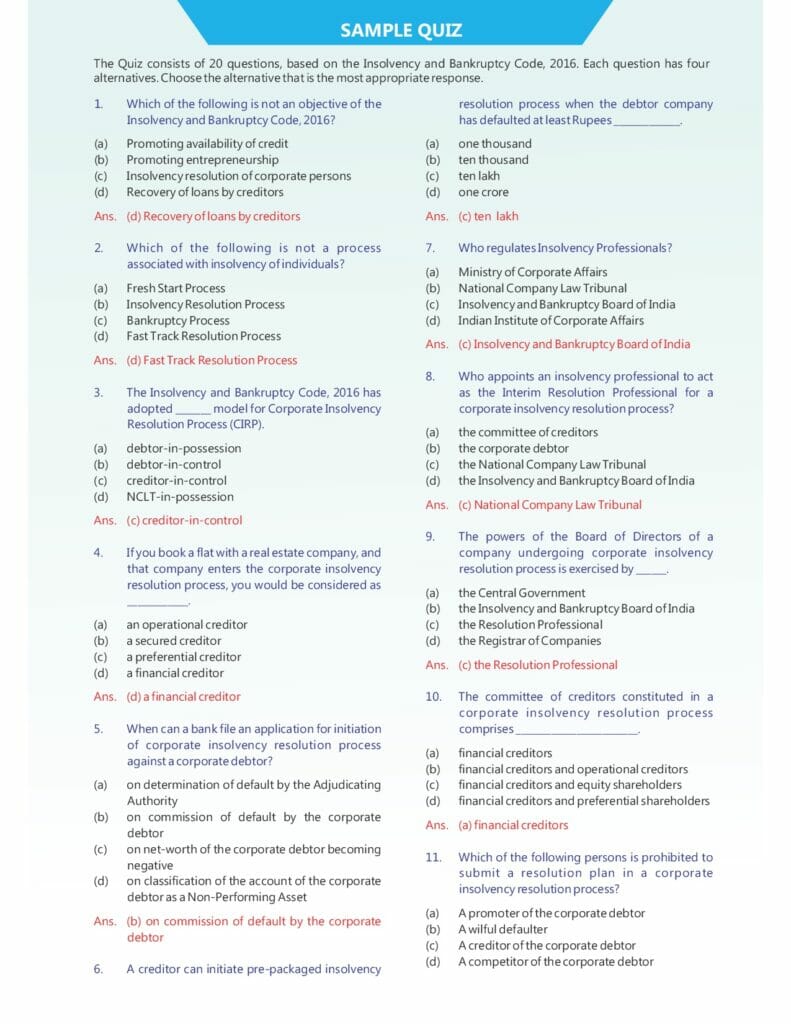 Official Link of 3rd National Online Quiz On Insolvency And Bankruptcy Code, 2016 can be accessed from below –
https://resource.cdn.icai.org/70031cibc55989.pdf
That's all for now. Stay Connected for more authentic updates.
Jai Hind, Vande Mataram
Team CA Study
Best Telegram Channels & Groups for CA Students
CA Study CA – Born To Fight (Channel) T.me/CABornToFight Never Miss an Update. Click Here for Notification & Whatsapp Group.
CA Final
– Born To Fight (Channel) T.me/CAFinal_BornToFight CA – Inter/IPCC (Channel) T.me/CAInter_BornToFight CA – Final Students Discussion Hub T.me/CABornToFight_Final CA – IPCC/Inter Students Discussion Hub T.me/CABornToFight_IPCC SUBJECT WISE GROUPS OF CA IPCC/INTER Mission P1 …