PUBG Mobile Update 0.12 Out Now, Brings Zombie: Darkest Night, Spectator Mode, and More
PUBG Mobile update 0.12 is out now for Android and iOS on Google Play and the App Store respectively. This much awaited update to the popular battle royale game brings new modes like Zombie: Darkest Night as well as host of features such as being able to spectate matches of your friends. The PUBG Mobile update 0.12 download size is around 475MB and is having a staged roll out, with users in countries like South Africa and Malaysia reporting on the official PUBG Mobile Discord that they've been able to download the update right now. So if you haven't been able to get the PUBG Mobile update 0.12 just yet, it should show up on your Android or iOS device soon enough.
PUBG Mobile update 0.12 details
This new update comes weeks after Tencent and PUBG Corp announced the PUBG Mobile Club Open 2019. Billed as "the world's biggest global e-sports venture with $2.5 million in prize pool earnings" its Spring Split Global Finals is slated for Germany this July. With a worldwide user base of 200 million players and 30 million who play daily, this should come as no surprise.
In India though, the PUBG Mobile competitive scene is facing growing pains aplenty.
"50 million gamers play PUBG Mobile in India now, which is the highest," said Rajdip Gupta, Founder of Cobx Gaming, one of India's bigger e-sports organisers in conversation with Gadgets 360. "It's more about how people come together and play PUBG Mobile — casually, there's no structured way to put a team together. You might have the best player in Malad, the best player in Borivali also, but you don't know who is the best player in India."
Furthermore, PUBG Mobile isn't geared towards e-sports just yet due to the absence of local ranking systems and a proper league structure. Though he remains hopeful.
"If they come up with leagues like Mumbai Premier League for cricket we might find the best team and have them compete against others," he said. "It might happen since Tencent is spending a lot money on the game. They might have some kind of league because India is the biggest market for them outside of China."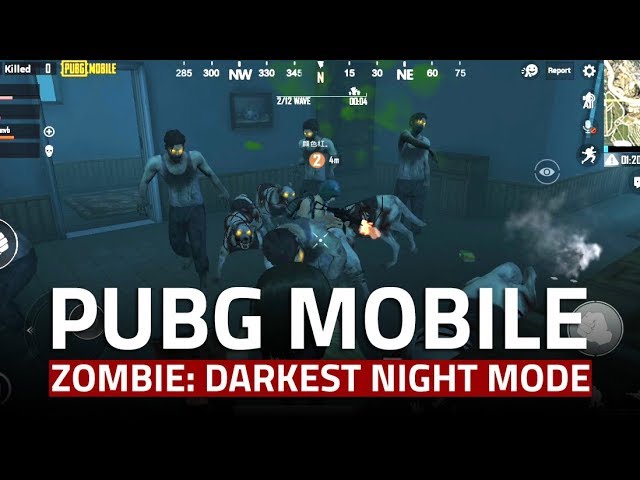 PUBG Mobile update 0.12 patch notes
New Feature: EvoZone

Replaces Event mode
Survive Till Dawn is now under this mode
More new modes will be added in the future

New EvoZone Mode: Darkest Night
Stay alive for one night while fighting zombies
All teams that are still alive at dawn will win
Changes to Survive Till Dawn:

Stun Grenades now also stun zombies
Added Liquid Nitrogen Grenades to freeze enemies and reduce their movement speed
Added jumping zombies and zombie dogs
Some zombies can now climb over low walls or onto roofs
Added RPG-7 and Jungle Style Magazines
Flamethrowers now deal more damage
M134 handling has been tuned
Players will gain affixes that grant certain buffs
Zombies now move slower after being hit by firearms
Added Survive Till Dawn quick chat messages to Default and Classic voice packs
Daily missions can now be completed in Survive Till Dawn

Players can now spectate matches that their friends, Crews or Clan members are currently in, and view others' information while spectating as well as adjust Spectator Mode privacy settings
Scope crosshair colors can now be changed in settings
Portable Closets can now be swapped while in a match
Spring Theme and Treasure is now available. Each draw guarantees a unique reward, and Sakura Dacia or Pink Rose Set is a guaranteed drop when drawing 10
Popularity has been added to Spaces. Players can now show their support by giving LIKEs to one another, and become Partners with friends that have 400 Synergy or more. Partners will appear in each other's Spaces
Players can now add Shop items as Favorites and be notified when these items are on sale
Duplicated time-limited items will now be stacked to only show 1 icon per item with total amount of time remaining (maximum duration is 999 days)
New Achievements: Best Companion, Superstar, Winning Culture, Adventurer, Until Dawn, and A Step Too Far
Automatic door-opening has been tuned
Dynamic weather odds have been tuned
More buildings have been added to Dino Park, Coal Mines and Goroka in Vikendi
Crew Challenge qualifying round has been expanded, and top 10 teams now get unique outfits
Emulator detection enhanced to stop emulator players from being matched with players on mobile devices
Friend invitations now show map and lag information
Quick Chat messages are now edited in Inventory
Quick Chat messages can now be displayed as a wheel to make sending messages faster and easier
Shadow effects can now be disabled to reduce resource consumption, heat and battery usage
Added a reminder on dismantling duplicated items for Silver
Previews are now available in some pages. Tap the reward icon to preview outfits
Gallery now only show items currently in stock at the Shop
Cloth Bandana (Leopard) with first purchase has ended. Rewards for first purchase of the season will be updated
RP Backpack now remember settings from the previous season
Mythic outfit emotes can now be heard by more players
Added haptic feedback to some buttons
Added animation for dropping empty magazines when reloading
Animation for throwing grenades while prone has been tuned
Animation added for opening/closing doors
Fixed a bug where hair was not displayed correctly when equipping certain headgear
Fixed a bug where Season 6 Pants caused graphic glitches in certain footgear
Fixed a bug where doors were not displayed properly
Fixed a bug where players may get stuck in buildings in certain areas
---
Rishabh Pant, Ambati Rayudu Named Among India World Cup 2019 Team Standbys
Rishabh Pant and Ambati Rayudu, who were excluded from India's 15-member squad for World Cup 2019, were named among the standbys on Wednesday. Pace bowler Navdeep Saini also found a place in the list of three back-ups for the mega-event starting in England and Wales on May 30. "Just like ICC Champions Trophy, we have three standbys. Rishabh Pant and Ambati Rayuduare the first and second standbys while Saini is the bowler in the list. So if anyone gets injured, as per requirement, one of the three will be going," a senior BCCI official told PTI on Wednesday.
Pant and Rayudu's exclusion from the squad had created quite a stir on Monday. While Sunil Gavaskar called Pant's omission surprising, the snub to Rayudu was questioned by Gautam Gambhir.
Dinesh Karthik, 33, was given the second wicketkeeper's slot over the rising 21-year-old star, ending days of speculation over the role.
While Khaleel Ahmed, Avesh Khan and Deepak Chahar will be travelling with the team purely as net bowlers, they can also be drafted in if the management feels so.
"Khaleel, Avesh and Deepak are not designated standbys. In case of bowlers, that possibility is there but when it comes purely to batsmen, it will be either Rishabh or Rayudu," the official said.
India, ranked number two behind England in one-day games, reached the semi-finals of the 2015 World Cup where they lost to Australia.
India are scheduled to play their opening World Cup match on June 5 against South Africa in Southampton.
India squad:
Virat Kohli (capt), Rohit Sharma, Shikhar Dhawan, K.L. Rahul, Vijay Shankar, Mahendra Singh Dhoni (wk), Kedar Jadhav, Dinesh Karthik, Yuzvendra Chahal, Kuldeep Yadav, Bhuvneshwar Kumar, Jasprit Bumrah, Hardik Pandya, Ravindra Jadeja, Mohammed Shami.
---
TikTok Ban Leads To Hilarious Memes And Jokes On Twitter
TikTok, the popular Chinese video-sharing app that created waves around the world, will no longer be available for download in India. Google and Apple Inc. complied with an Indian court order to block downloads of the app over government concerns with illicit content. TikTok had faced backlash recently over concerns that it exposed children to troubling content, including pornography. As news of the ban spread and the hashtag #TikTokBan began to trend on Twitter, netizens took to creating memes and jokes celebrating the decision.
Take a look at some of the best jokes on the TikTok ban: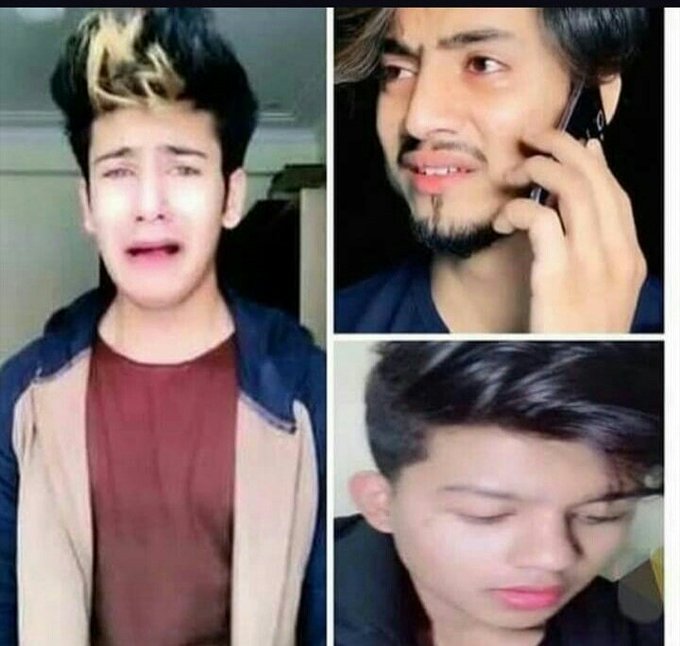 Tik tok users rightnow #tiktokbanned
Pratik vishwakarma@Pratikv46786281
2 minute silence for the tiktok users who mentioned 'Actors' in their bio ..!! great decision and order by the court to ban tiktok in india
It spoils the society..!! #tiktokban #tiktokban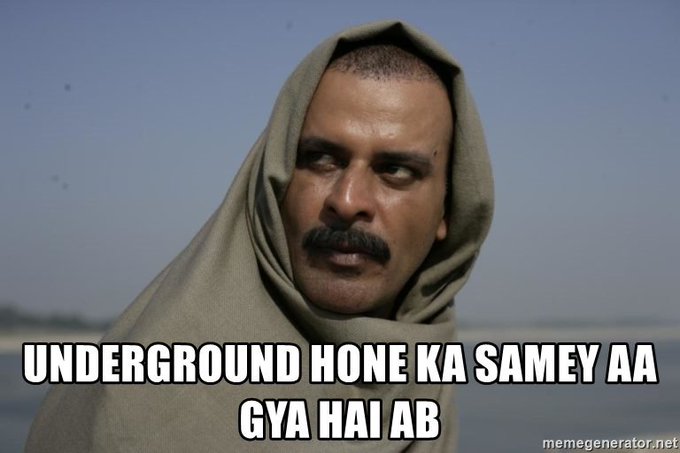 TikTok users now be like #tiktokbanindia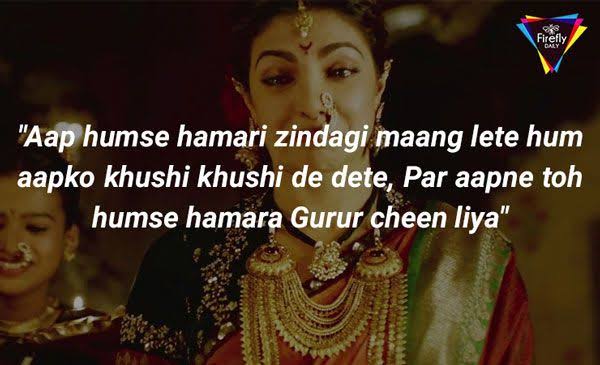 Nitin Rummangud@Nitin_rummangud
TikTok users to govt #tiktokban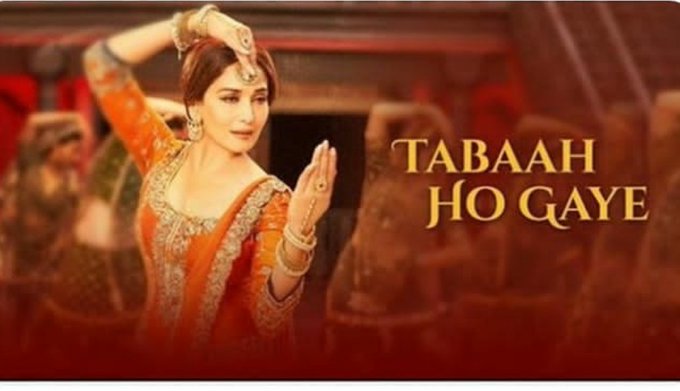 Tiktok users right now
The actual leaked picture of #TikTok users after the #TikTokban:
While most people on Twitter mocked TikTok users, others celebrated the banView image on Twitter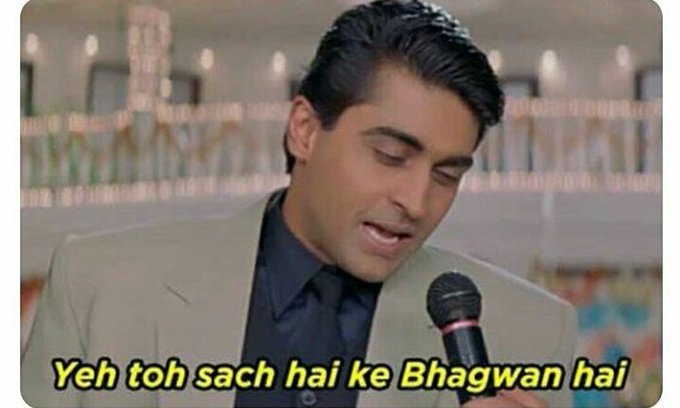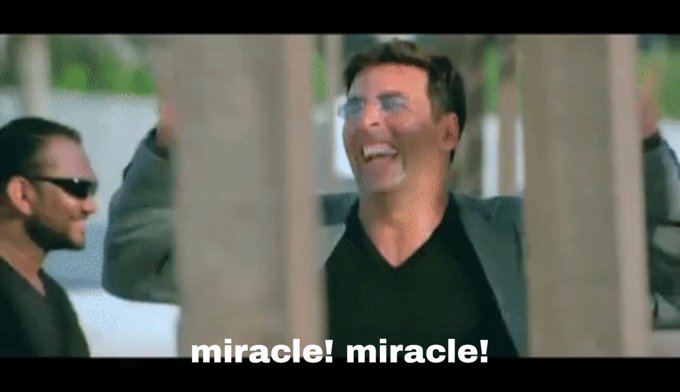 not a mystery anymore!@youhtweets10
#tiktokban
*After realising tiktok is going to be banned in India*

TikTok is no longer available for download on Apple and Google's app stores.
A spokeswoman for Bytedance, which creates social and news-reading apps, declined to comment on the app store decisions, but provided a statement: "The case is still ongoing to date," the company said. "We have faith in the Indian judicial system and we are optimistic about an outcome that would be well received by over 120 million monthly active users in India."
---
Photo of father and daughter playing minutes before Notre Dame fire in Paris goes viral
A photo showing father-daughter duo playing outside Notre Dame minutes before it caught fire is going viral online. In fact, social media is fixed on helping the photographer find the two and give them the heartwarming picture.
Picture taken minutes before the historic Notre Dame cathedral caught fire
One of the most devastating incidents shook Paris on Monday, April 15, when the historic cathedral, Notre Dame collapsed after a massive fire broke out.
While the world mourns the loss of the iconic monument, a heartwarming photo before Notre Dame, took minutes before the fire took place, is doing rounds on the internet.
The photo is being circulated by its owner online as a plea to find the two people featured in it, pictured outside Notre-Dame cathedral minutes before the devastating fire erupted.
The picture in question shows a father and daughter playing happily outside the cathedral.View image on Twitter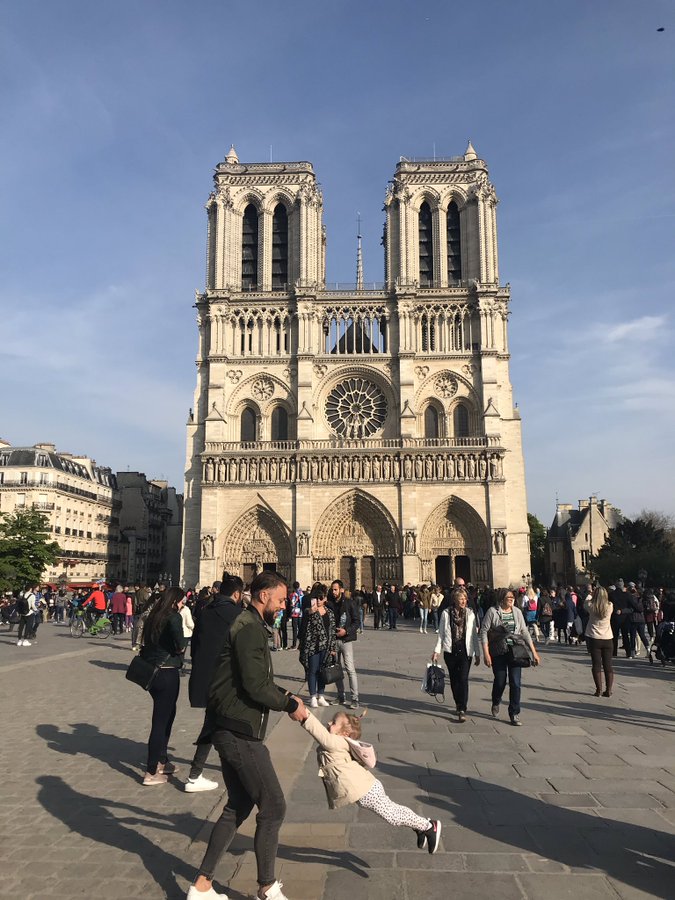 I took this photo as we were leaving #NotreDame about an hour before it caught on fire. I almost went up to the dad and asked if he wanted it. Now I wish I had. Twitter if you have any magic, help him find this
The picture was captured by Brooke Windsor an hour before the fire.
Brooke shared the picture on Twitter with the caption, "I took this photo as we were leaving #NotreDame about an hour before it caught on fire. I almost went up to the dad and asked if he wanted it. Now I wish I had. Twitter if you have any magic, help him find this."
Later Brooke also clarified that she was not sure whether the two were father and daughter.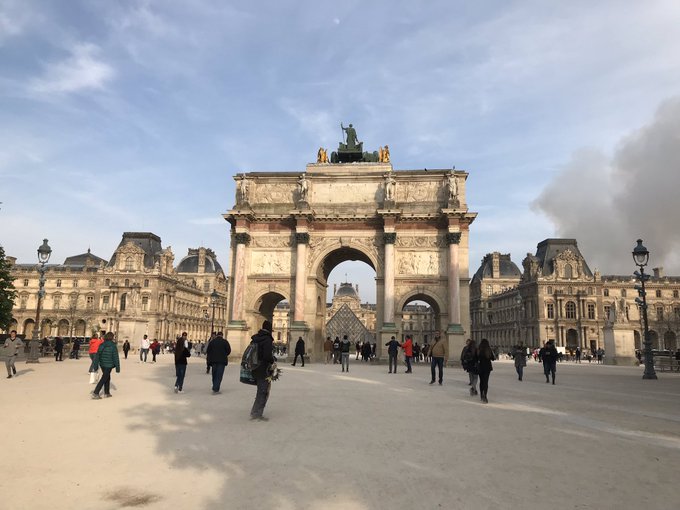 After she posted the picture, people across the world, determined to help her track down the pair, got to work.
And at the time of writing this article the tweet already had 2,02,145 retweets 4,21,375 likes.
She even told a daily, "If it were me, I'd want the memory. Hoping he feels the same way."
People on Twitter also agreed with her. One user wrote, "That's a keeper! Amazing photo. Could be historic too," while another wrote, "This is going to become THAT photo."
---
Amul's cartoon on Notre Dame fire is dedicated to France's resilience

After the massive fire at Notre-Dame Cathedral in Paris on Monday evening, that gutted the roof and spire of the 850-year-old Gothic building, millions of people, including some of the world leaders, took to social media to express their grief. French President Emmanuel Macron expressed immense sorrow over the incident as he later vowed to rebuild the structure.
"This Notre-Dame Cathedral, we will rebuild it. All together. This is part of our French destiny. I am committed to this: from tomorrow a national subscription will be launched, and far beyond our borders," Macron tweeted.
Among many who conveyed dismay over the fire and stood in solidarity with the people of France, dairy brand Amul dedicated their latest topical to Notre Dame. Featuring Macron and the cathedral in the background, the text on the topical reads, "We will Notre give up.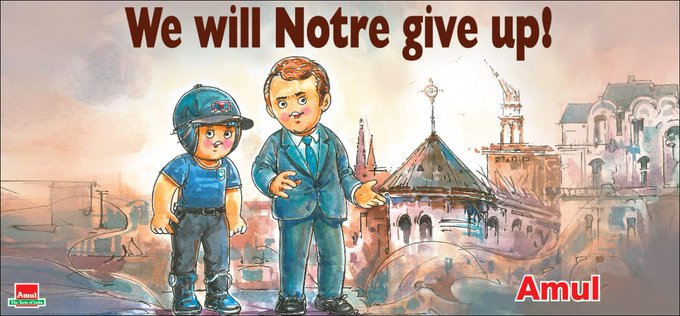 #Amul Topical: President Macron determined to rebuild the Cathedra
It did not take long for the post to go viral, with many praising the topical dedicated to the Notre Dame cathedral. Nearly USD 1 billion has already poured in from ordinary worshippers and high-powered magnates around the world to restore Notre Dame Cathedral in Paris after a massive fire, with Macron ratcheting up the pressure by setting a five-year deadline to restore the 12th-century landmark.
---
Source:
https://indianexpress.com
https://www.indiatoday.in
https://www.ndtv.com

---
Jai Hind, Vande Mataram
Team CA Study