First ever image of a black hole revealed
Scientists have been puzzling over invisible "dark stars" since the 18th century, but never has one been spied by a telescope, much less photographed.
Astronomers on April 10 unveiled the first photo of a black hole, one of the star-devouring monsters scattered throughout the Universe and obscured by impenetrable shields of gravity. The image of a dark core encircled by a flame-orange halo of white-hot gas and plasma looks like any number of artists' renderings over the last 30 years.
But this time, it's the real deal.
Scientists have been puzzling over invisible "dark stars" since the 18th century, but never has one been spied by a telescope, much less photographed.
The supermassive black hole now immortalised by a far-flung network of radio telescopes is 50 million lightyears away in a galaxy known as M87.
"It's a distance that we could have barely imagined," Frederic Gueth, an astronomer at France's National Centre for Scientific Research (CNRS) and co-author of studies detailing the findings, told AFP.
Most speculation had centred on the other candidate targeted by the Event Horizon Telescope — Sagittarius A*, the black hole at the centre of our own galaxy, the Milky Way.
By comparison, Sag A* is only 26,000 lightyears from Earth.
Locking down an image of M87's supermassive black hole at such distance is comparable to photographing a pebble on the Moon.
European Space Agency astrophysicist Paul McNamara called it an "outstanding technical achievement".
It was also a team effort.
"Instead of constructing a giant telescope that would collapse under its own weight, we combined many observatories," Michael Bremer, an astronomer at the Institute for Millimetric Radio Astronomy (IRAM) in Grenoble, told AFP.
Earth in a thimble
Over several days in April 2017, eight radio telescopes in Hawaii, Arizona, Spain, Mexico, Chile, and the South Pole zeroed in on Sag A* and M87.
Knit together "like fragments of a giant mirror", in Mr. Bremer's words, they formed a virtual observatory some 12,000 km across — roughly the diameter of Earth.
In the end, M87 was more photogenic. Like a fidgety child, Sag A* was too "active" to capture a clear picture, the researchers said.
Photo: Twitter/@NSF
"The telescope is not looking at the black hole per se, but the material it has captured," a luminous disk of white-hot gas and plasma known as an accretion disk, said Mr. McNamara, who was not part of the team.
"The light from behind the black hole gets bent like a lens."
The unprecedented image — so often imagined in science and science fiction — has been analysed in six studies co-authored by 200 experts from 60-odd institutions and published on April 10 in Astrophysical Journal Letters.
"I never thought that I would see a real one in my lifetime," said CNRS astrophysicist Jean-Pierre Luminet, author in 1979 of the first digital simulation of a black hole.
Coined in the mid-60s by American physicist John Archibald Wheeler, the term "blackhole" refers to a point in space where matter is so compressed as to create a gravity field from which even light cannot escape.
The more mass, the bigger the hole.
At the same scale of compression, Earth would fit inside a thimble. The Sun would measure a mere 6 km edge-to-edge.
A successful outcome depended in part on the vagaries of weather during the April 2017 observation period.
"For everything to work, we needed to have clear visibility at every [telescope] location worldwide", said IRAM scientist Pablo Torne, recalling collective tension, fatigue and, finally, relief.
'Hell of a Christmas present'
Mr. Torne was at the controls of the Pico Veleta telescope in Spain's Sierra Madre mountains.
After that, is was eight months of nail-biting while scientists at MIT Haystack Observatory in Massachusetts and the Max Planck Institute for Radio Astronomy in Bonn crunched the data.
The Universe is filled with electromagnetic "noise", and there was no guarantee M87's faint signals could be extracted from a mountain of data so voluminous it could not be delivered via the Internet.
There was at least one glitch.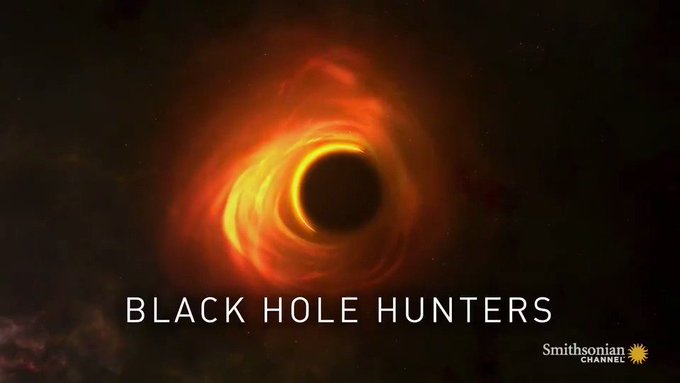 National Science Foundation✔@NSF
The story of @ehtelescope's quest to capture the first image of a black hole was covered by @SmithsonianChan's documentary "Black Hole Hunters" premiering this Friday. #RealBlackHole #EHTBlackHole9827:06 PM – Apr 10, 2019541 people are talking about thisTwitter Ads info and privacy
"We were desperately waiting for the data from the South Pole Telescope, which — due to extreme weather conditions during the southern hemisphere winter — didn't arrive until six months later," recalled Helger Rottmann from the Max Planck Institute.
It arrived, to be precise, on December 23, 2017.
"When, a few hours later, we saw that everything was there, it was one hell of a Christmas present," Mr. Rottmann said.
It would take another year, however, to piece together the data into an image.
"To be absolutely sure, we did the work four times with four different teams," said Mr. Gueth.
Each team came up with exactly the same spectacular, history-making picture of a dark circle encased in a flaming-red halo.
'Deeply regret' Jallianwala Bagh massacre, Theresa May tells British Parliament
However, the Prime Minister stops short of voicing a full apology.
British Prime Minister Theresa May on Wednesday expressed regret for the 1919 Jallianwala Bagh massacre by British troops in Amritsar but stopped short of a full apology.
"We deeply regret what happened and the suffering caused," Ms. May told Parliament, as India prepares to mark the 100th anniversary of the killings.
Jeremy Corbyn, leader of the main opposition Labour Party, called for "a full, clear and unequivocal apology".
The April 13, 1919 massacre, in which British troops opened fire on thousands of unarmed protesters, remains an enduring scar from the British colonial rule in India.
Colonial era records show about 400 people died when soldiers opened fire on men, women and children in an enclosed area, but Indian figures put the toll at closer to 1,000.
Former British Prime Minister David Cameron described it as "deeply shameful" during a visit in 2013 but also stopped short of an apology.
A ceremony was due to take place at the site of the massacre on Saturday.
News Analysis: Five reasons why Imran Khan thinks Narendra Modi's win will restart India-Pak peace process
Amid heightened tensions after the Pulwama attack, Pakistan Prime Minister Imran Khan has said a win for Narendra Modi in the General elections would revive hopes for India-Pakistan peace.
A day before first phase of voting begins in India, an endorsement from Pakistan's Prime Minister Imran Khan for Prime Minister Narendra Modi was perhaps the least expected statement. To begin with, according to diplomatic protocol, foreign leaders normally shy away from commenting on domestic political outcomes, apart from bland platitudes about 'working with whoever wins elections'.
Beyond that, for the past two months, since the terror attack on a CRPF convoy in Pulwama that killed 40 jawans, tensions between the two countries have been at a new high. The Indian Air Force strike on a Jaish-e-Mohammad camp in Balakot, Pakistan's retaliatory action in Jammu and Kashmir, and the bitter words that have been exchanged between New Delhi and Islamabad since then have fuelled the tensions.
Despite that, when Mr. Khan met with a group of foreign journalists for an interaction in Islamabad on Tuesday, he expressed the hope that India-Pakistan peace had a "better chance under Mr. Modi" He also said, "If the next Indian government were led by the opposition Congress party, it might be too scared to seek a settlement with Pakistan over disputed… Kashmir, fearing a backlash from the right," according to Australian Broadcasting correspondent.
"Perhaps if the BJP – a right-wing party – wins, some kind of settlement in Kashmir could be reached," Mr. Khan told the group adding that he believed Mr. Modi too would be interested to restart dialogue despite the current impasse.
"There will be two Narendra Modis — one before the election, one after," Mr. Khan said, referring to the BJP's campaign based on "fear and nationalistic feeling". It should be remembered that Mr. Khan's political party Pakistan Tehreek-e-Insaaf (PTI) fought the Pakistan general elections last year with a similar rhetoric.
So what's behind the Mr. Khan's comments, especially as they come right on eve of elections in India?
1.The audience
Pakistani Prime Minister Imran Khan. File | Photo Credit: Reuters
Mr. Khan was speaking to a group of international media including reporters from the New York Times, Washington Post, Reuters, ABC television and others, most of whom had been invited to Pakistan to meet with the Prime Minister and the members of the cabinet, and were briefed by the Military as well.
Pakistan faces rigorous investigations by the IMF, where Mr. Khan's government has applied for loans. The Financial Action Task Force is conducting a review ahead of a meeting in June where Pakistan, which is on the "greylist" could be blacklisted if it doesn't show credible action on terror. At this time, Mr. Khan's words espousing dialogue with India are equally aimed at the US, the EU and the Gulf countries, which would like to see bilateral tensions ease.
During the interview, Mr. Khan also spoke of action being taken against terror groups including the Jaish-e-Mohammad, although maintaining the unverified line that its chief Masood Azhar is ill and "not really in charge right now."
2. Pakistan wants to show focus on restarting dialogue
Despite the fact that there has been no sustained dialogue process between India and Pakistan since 2008, Pakistan's establishment has consistently held that it would like to pursue dialogue with India.
Mr. Khan's statement fits in with this long-standing policy of pushing for talks, while New Delhi holds that there can be no talks until terror ends.
Mr. Khan has given interviews previously too, including to a group of Indian journalists in November 2018 where he said that he believes the Indian government will be more open to engagement after the elections.
Mr. Khan's comments are also aimed at portraying him as the "more reasonable" interlocutor, and comes at the time when Pakistan's Foreign Minister Shah Mehmood Qureshi alleged that he had "credible intelligence" that India is planning more strikes on Pakistan "between April 16 and 20."
3. Hardliners have been bigger risk-takers on India-Pakistan
There is a general belief in Pakistan that only hardliners — non-Congress leaders — in India can sell peace with Pakistan. While in Opposition, they are a formidable opponent of talks with Pakistan, but once in power; they are best placed to take peace initiatives.
This belief borne out by history. The then Prime Minister Atal Bihari Vajpayee, who led India during the Kargil war, and campaigned in both 1998 and 1999 elections with nationalistic, anti-Pakistan rhetoric, was also the Prime Minister who visited Pakistan twice — once in February 1998 for the Lahore summit and in January 2004 for the SAARC summit.
Despite General Musharraf's role in the Kargil war, the then NDA government also invited him to Agra for talks in 2000.
Similarly, when Mr. Modi took office in 2014, he began with an invitation to Pakistan Prime Minister Nawaz Sharif and other SAARC leaders to attend his swearing-in, and then travelled to Lahore in December 2015. After the Pathankot terror attack, the Modi government invited a Pakistani team of investigators to travel to the airbase to facilitate a "joint investigation."
Pakistan had conferred Morarji Desai with the Nishan-e-Pakistan in 1990, despite the fact that he had once threatened to "destroy Pakistan" if it used a nuclear weapon.
In comparison, Manmohan Singh, who was seen as a "peacenik" for pursuing the four-step formula in Kashmir and even after trying to sustain the dialogue process for years, never visited Pakistan once. He was unable to convince even his own party to back the peace process after the Mumbai attacks.
Prime Ministers Indira Gandhi and P.V. Narasimha Rao also did not travel to Pakistan during their tenures. While the outcomes of their Pakistan policies may be judged differently, there seems little question that the bigger risks have been taken by the hawks, not the doves in India's leadership.
4. Hyper nationalistic neighbours help hardliners domestically too
While Mr. Khan has been critical of Mr. Modi's election speeches against Pakistan, and the comments about minorities made by the BJP's leadership, the truth is that nothing suits him more.
Pakistan's leadership believes that Jinnah's two-nation theory, which advocated two majoritarian religious states — a Muslim Pakistan and a Hindu India — can only be realised if political parties in India too advocate a non-secular approach in government. In addition, any threats by leaders in India against Pakistan bolster the PTI government's hyper nationalist rhetoric with its domestic constituency as well.
5. National Security is common policy driver, and that's not all
Mr. Khan's rise to power has often been compared to Mr. Modi: both have a strong belief in hard power politics, and have promoted tough national security policies.
While Mr. Modi's strikes in Uri were not met with any counter-force by Pakistan under Mr.Sharif; after the Balakot strikes, when the IAF hit a target in undisputed Pakistani territory, Mr. Khan said he had "no choice" but to retaliate with air force action in Jammu and Kashmir along the LoC.
Both leaders have always campaigned as "outsiders to the system" and won elections on anti-corruption planks, while both their parties promote a majoritarian line that has caused concerns amongst minorities in their respective countries.
In that sense, Mr. Khan, who last met Mr. Modi in December 2015, and has spoken to him on the phone and exchanged letters after he was elected in August 2018, may feel that he has a working understanding of Mr. Modi. It is not unlikely, therefore, that if Mr. Modi is re-elected to power on May 23rd, one of the first congratulatory calls he will receive will be from Mr. Khan.
A comparison of BJP, Congress manifestoes
As the electioneering enters the crucial phase of voting from April 11, we take a look at the key promises made by the BJP and the Congress
The Bharatiya Janata Party released 'Sankalp Patra' (manifesto) on April 8, six days after the Indian National Congress released its manifesto. While the former promises 'Sankalpit Bharat Sashakt Bharat' (Determined India, Empowered India), the latter's slogan is 'the Congress will deliver'. Both the parties have announced a slew of welfare measures, but the focus of the BJP is national security and for the Congress it is jobs.
Here is a comparison of their manifestoes in key areas.
PM Modi and BJP president Amit Shah release the party's manifesto on Monday. PTI PTI
Agriculture
The BJP has pledged to double the income of farmers by 2022. The Prime Minister Kisan Samman Nidhi (PM-KISAN) that was announced in the interim budget would be extended to all the farmers in the country.
The Congress has promised a separate 'kisan budget' for agriculture, besides establishing a national commission on agricultural development and planning and a commission on marginal farmers and agricultural labour.
While the BJP has said its landmark scheme, the Pradhan Mantri Fasal Bima Yojana (Crop Insurance Scheme) would be made voluntary for farmers, the Congress says it will redesign the scheme.
While both the parties promise the expansion of modern warehouses, cold storage and food processing facilities, the BJP seeks to establish a national warehousing grid along the national highways.
Organic farming also finds a mention in both the manifestoes. In addition, the BJP has proposed eco-tourism in the vicinity of organic farming to provide additional income to farmers.
The Congress has promised to restore the Land Acquisition, Rehabilitation, and Resettlement Act, and the Forest Rights Act in its original form.
Environment
While the BJP wants to achieve its goal of generating 175 GW of renewable energy by 2022, the Congress has given a broad outline to tackle climate change. This includes the setting up of an independent environment protection authority, and defending India's interests in international negotiations on climate change.
The BJP has promised to convert the National Clean Air Plan into a mission and focus on 102 most polluted cities in the country, and in addition to that, the Congress has promised to set sectoral emission standards.
Congress General Secretary and Uttar Pradesh – East incharge Priyanka Gandhi Vadra during the release of party's manifesto for Lok Sabha polls 2019, in New Delhi, Tuesday, April 02, 2019. | Photo Credit: PTI
Infrastructure
The BJP wants to ensure a pucca house for every family, with a toilet, 100% electrification and safe and potable drinking water.
The Congress has promised right to housing for the urban poor. To ensure universal access to toilets, the party proposes a 'nirmal Bharat abhiyan'.
While the Congress manifesto makes broad-based promises on transport and logistics, the BJP's is more specific — 100 more functional airports, metro services in 100 cities, conversion of all railway lines to broad gauge, and a Bharatmala 2.0 to expand port capacities.
Economy
The BJP has an ambitious plan of making India a $5 trillion economy by 2025 and the third largest economy by 2030. It also plans to make capital investment of Rs.100 lakh crore in the infrastructure sector. Improving India's rank in 'Ease of Doing Business' ranking, a single-window compliance and dispute resolution mechanism for MSMEs, and making technical and procedural defaults under Companies Act as civil liabilities, are some of the key reforms proposed.
The Congress has promised an open, liberal market economy. Autonomy of the RBI, scrapping of the Angel Tax for start-ups, rehabilitation plan for MSMEs, an increase in the share of manufacturing to 25 per cent, and a review of foreign trade policy and all laws, rules and regulations governing investments within three months.
Taxation
The Congress has proposed a GST 2.0 regime based on a single, moderate, standard rate of tax on all goods and services, which will include tobacco, liquor, and petroleum products. It also proposes to implement a direct taxes code.
The BJP, which introduced the Goods and Services Tax, says it will continue to simplify the process by engaging in dialogue with all stakeholders. The party has pledged to "strive to ensure reduced tax rates, higher tax collection and greater compliance."
Employment
Continuing its 'Make in India' initiative, the BJP promises to make India a global manufacturing hub by coming up with a new industrial policy with an eye on emerging technologies such as artificial intelligence.
The Congress has promised to fill all 4 lakh Central government and institutional vacancies before March 2020. It has also promised to urge the State governments to fill up 20 lakh job vacancies. For low skill workers, it has promised a water bodies restoration mission and 'wasteland regeneration mission', with a target of creating one crore jobs. The Congress also plans to link the definition of MSME to employment. An enterprise support agency will be created to provide all-round support to entrepreneurs and start-ups.
A new ministry of industry, services and employment will be created. Businesses that create new jobs will be rewarded by lowering the effective direct tax rates and by lowering contributions to the CSR fund. Apprenticeship will be made part of the CSR rules.ALSO READA challenging text: on the Congress manifesto
National Security
The Congress has promised to re-establish the National Security Advisory Board, give statutory basis to the office of National Security Advisor and the National Security Council. An office of the Chief of Defence Staff will be established to advise the government on matters relating to defence. It has also vowed to increase the spending on defence and modernisation. The manifesto mentions expanding defence from territorial security to cyber, data, communication, trade routes, and financial security.
The BJP has emphasised on "zero-tolerance approach to terrorism." It has promised the modernisation of armed forces, speeding up the purchases of outstanding defence related equipment and weapons, and strengthening the strike capability of the armed forces. 'Make in India' in Defence to promote production of defence equipment also finds mention in the manifesto.
The BJP has also promised to modernise the Central and State police forces and expedite police reforms in States. Smart fencing and integrated check-posts along the borders, establishment of a national committee for strengthening maritime & coastal security, and development of economic and social infrastructure in the Left Wing Extremism-affected areas are proposed in the manifesto.
The BJP has also promised resettlement options for armed forces veterans, which will be planned three years before their retirement.
Education
The BJP proposes 'Prime Minister Innovative Learning Program' to instill a culture of lateral thinking and innovation among children. Every secondary classroom will be equipped with smart classes. Another 200 Kendriya Vidyalayas and Navodaya schools will be opened in the next five years. The number of seats in Central Law, Engineering, Science and Management institutions will be increased by 50% in the next five years. Music University, Police University, Hospitality and Tourism University will be set-up. A new regulatory mechanism to grant autonomy to higher education institutions will also be set up. It also promises setting up one medical college in every district.
Congress has proposed transferring school education to the States List. Education in public schools upto Class XII will be compulsory and free of cost. It has promised to double the allocation for education to 6% of the GDP in the next five years. Vocational training as a compulsory component in secondary school education, public universities in under-served areas, restoring the 200-point roster system in Central Universities, and increasing the Gross Enrollment Ratio (GER) in Higher Education to 40, are part of Congress manifesto. It also proposes a State-level examination in the place of NEET for medical admission.
Healthcare
Congress proposes to spend three per cent of GDP on healthcare by the year 2023-24. It has also promised Right to Healthcare and free public hospitals-model to provide universal healthcare.
The thrust for universal healthcare in BJP's manifesto is through its flagship Ayushman Bharat scheme. It plans to set up 1,50,000 Health and Wellness Centres by 2022. The party also hopes to eliminate tuberculosis by 2022.
Sports
The BJP plans to map state and district-wise sport talent. A mini-stadium in each sub-district, a National Sports Education Board and Fit India campaign are part of BJP's manifesto.
The Congress manifesto says the physical education and sports will be made mandatory part of the school curriculum. Centres of Sporting Excellence in different parts of the country, one community sports centre in each block and at least one multi-sport coaching centre in every district figures in Congress manifesto.
Social welfare
The BJP has promised to set up an Eklavya Model Residential School in every block where more than half the population are Scheduled Tribes. 50,000 'Van Dhan Vikas Kendras' will be established to provide value addition to forest produce. Pucca houses for every family within 2022, bringing down poverty ratio to single digit, and higher interest rates on fixed deposits by the differently-abled are part of BJP's promise for inclusive development.
The Congress has announced its flagship poverty alleviation scheme — NYAY, a minimum income support programme. Under the scheme, the poorest 20 per cent household will be assured of Rs. 72,000 income per annum. If a family earns say Rs. 6,000 per month, the government will transfer the remaining Rs.6,000 to the account of a woman of the family who has a bank account.
The party has also promised to amend the Constitution to prohibit discrimination on the grounds of disability. Congress manifesto also speaks of protecting the rights of the LGBTQIA+ community and gender sensitivity training. Both both the parties are non-committal on legalising homosexual marriages.
Women
The BJP's manifesto promises financial empowerment of women. This includes preference to government procurement from MSMEs that have at least 50 per cent women in workforce, three fold increase in childcare facilities by 2022, and a comprehensive 'Women in Workforce' roadmap. The BJP has promised to reduce malnourishment in women and girls by 10 per cent in the next five years. The BJP says it will create a separate Women's Security Division under the Home Ministry. The BJP says it is poised to ban the Triple Talaq and Nikah Halala.
The Congress has promised that every Special Economic Zone will have working women's hostels and safe transport facilities. It has promised to abolish laws that prohibit night shifts for women. It has also promised to strictly enforce the Equal Remuneration Act. It has also promised a separate investigative agency to look into heinous crimes against women.
While the BJP has promised to provide sanitary pads for Rs. 1 per pad, Congress says it will install sanitary napkin vending machines in public places.
Even though both the parties have supported 33 per cent reservation for women in Parliament and Assemblies, the Congress has also promised to amend the Service Rules to ensure one-third of Central government appointments are for women.
Governance
Congress has promised to pass an Anti-Discrimination Law, Councils for agriculture, healthcare and education, full statehood to Puducherry, Special Category Status to Andhra Pradesh, and define the role of Lieutenant Governors. As part of judicial reforms, it proposes to establish a National Judicial Commission, a Court of Appeal, an independent Judicial Complaints Commission, increase the representation of women and marginal sections at all levels of the judiciary.
The BJP has assured to bring reforms in civil services on the lines of "Minimum Government and Maximum Governance". It also aims to provide end-to-end digitisation of government processes and digital delivery of government services. Setting up an International Financial Services Centre Authority is also in BJP's wishlist.
On electoral reforms, the BJP wants to hold simultaneous elections for Parliament, Assemblies and local bodies, while the Congress is poised to scrap Electoral Bond Scheme and replace it with a National Election Fund.
Release of PM Modi biopic deferred till further orders from EC
Any such film that subserves purpose of any political entity or individual should not be displayed in the electronic media, says Election commission.
The release of a biopic on Prime Minister Narendra Modi has been deferred till further orders from the Election Commission, which on April 10 issued a directive prohibiting display of any biopic material that sub-serves "the purposes of any political entity or individual connected to it".
"The Election Commission of India today issued an order prohibiting display in electronic media including cinematograph of any biopic material in the nature of biography/hagiography sub-serving the purposes of any political entity or any individual entity connected to it," said a statement.
The EC spokesperson said the order would also apply to Namo TV. The Commission had, on Tuesday, directed the Delhi Chief Electoral Officer to ensure that the channel's political contents were pre-certified by the media certification and monitoring committee and seek an explanation if it had not been done earlier.
The ECI said that if in any movie, certified by the appropriate authority [censor board], there was such a violation, or a complaint was made in this regard, a committee set up by the Commission would examine it and suggest appropriate action. The committee will be headed by a retired Supreme Court judge or former Chief Justice of a High Court.
Observing that certain political contents related to either a candidate, political party or the achievement of the party in power (BJP), which were not in conformity with the Model Code of Conduct (MCC), were being displayed in the electronic media or intended to be displayed to the public with the purpose of furthering electoral gains, the Commission in its order said it had so far received complaint against NTR Laxmi, PM Narendra Modi and Udyama Simham.
It has been alleged that these films either diminish or advance the electoral prospect of a candidate or a political party in the garb of creative freedom. The Commission has not yet confirmed if the complaints against Mr. Modi's biopic and the other two movies have been referred to the committee for examination.
Exercising its powers under Article 324 of the Constitution, the EC has directed that any biopic material sub-serving the purposes of any political entity or any individual entity connected to it, which is intended to, or which has potential to disturb the level playing field during the elections, should not be displayed during the MCC period.
"Any poster or publicity material concerning any such certified content, which either depicts a candidate (including prospective) for the furtherance (or purported to further) of electoral prospect, directly or indirectly, shall not be put to display in electronic media in the area where MCC is in operation," said the seven-page order.
In a separate letter to the producers of PM Narendra Modi, the Commission said in view of the admitted facts and material available on record, the film being a biopic on a political leader and prospective candidate to the Lok Sabha polls cannot be exhibited in view of the EC's order.
"Therefore, in view of the above, you are hereby directed not to exhibit the film titled 'PM Narendra Modi' till further orders in terms of the aforesaid Order," said the Commission.
Source:
Website: https://www.thehindu.com

---
Jai Hind, Vande Mataram
Team CA Study