Charms and chivalry of Jaisalmer need no elaboration. We thought of a number of adjectives to describe the gems of this jewel in Rajasthan – battle scarred forts, chivalric charm, riot invoking colors, breathtaking sand dunes, slightly arrogant pride and romantic honor. But most are just near perfectly suited to describe one or more of glorious places to visit in Jaisalmer – one place that encapsulates the idea of incredible Indian heritage with valor and passion. Have a look at the stunning marvels of the city, which are the top tourist attractions of Jaisalmer.
Top 12 Places To Visit In Jaisalmer, India
Take a gander at all these fabulous places you can explore during your trip to Jaisalmer in Rajasthan. Make sure you add each of them to your itinerary.
Jaisalmer Fort
Bada Bagh
Patwon Ki Haveli
Salim Singh Ki Haveli
Sam Sand Dunes
Gadisar Lake
Desert National Park
Sadar Bazaar
Silk Route Art Gallery
Sonaron Ka Baas
Amar Sagar Lake
Kuldhara Village
1. Jaisalmer Fort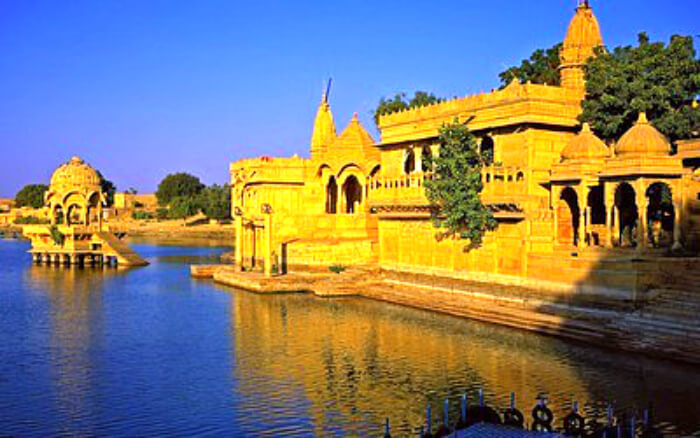 Also known as Golden Fort, this majestic fort is made up of yellow sandstone that reflects golden hues and hence gets the name. Raja Jaisal constructed this fort, which is a fine epitome of Rajasthani architectural style and a must visit name among the places to see in Jaisalmer.
Location: Fort Road, Near Gopa Chowk, Amar Sagar Pol, Jaisalmer, Rajasthan 345001
Key attractions: 99 turrets of the fort, magnificent look of the fort during the night!
Opening hours: Early morning till 5 pm
Entry fee: INR 50 for domestic, INR 250 for others
---
2. Bada Bagh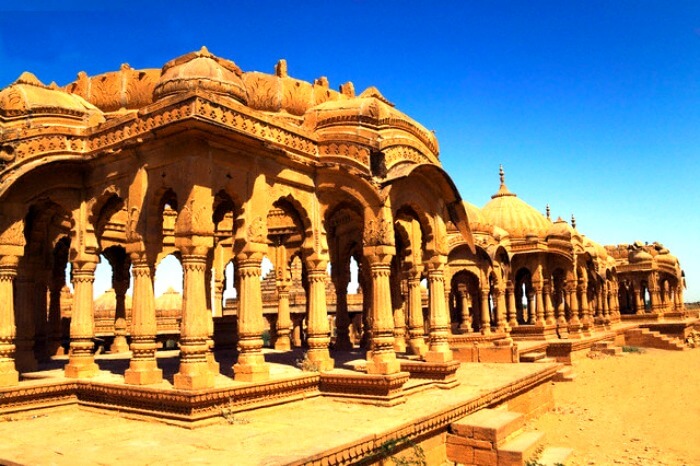 Popular as Huge Garden, it was built by Maharawal Jait Singh. Bada Bagh was constructed as a memorial for the nobles who fought for the city. Here, not only the nobles but the cremation of their families also took place. The heritage stories make it a popular name among the places to visit in Jaisalmer.
Location: Bada Baugh Chhatris Rd, Rajasthan 345001
Key attractions: Mesmerizing sunset and enchanting sunrise.
Opening hours: 8 am to 6 pm
Entry fee: INR 20 for domestic, INR 50 for others
Must Read: 10 Best Things To Do In Jaisalmer For A Spellbinding Tour In Rajasthan
3. Patwon Ki Haveli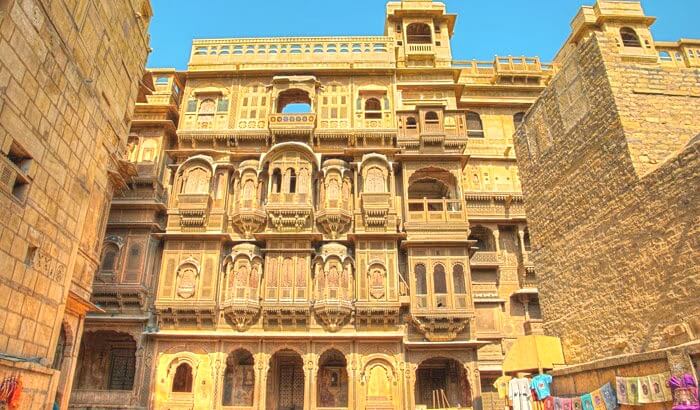 Built by Guman Chand – one of the prominent traders of the city, this haveli is known for its intricately carved massive suites. The walls are beautifully decorated and the corridors are large, decked with art of the erstwhile era, making it one of the best places to visit in Jaisalmer.
Location: Patwon ki Haveliyan, Jaisalmer, Rajasthan 345001
Key attractions: Crafts and arts of local artisans, architectural style and detailed inscriptions
Opening hours: 8 am to 6 pm
Entry fee: INR 10 for domestic, INR 50 for others
Suggested Read: Pulling The Royal Out Of A Random Weekend: Trip To Jaisalmer
4. Salim Singh Ki Haveli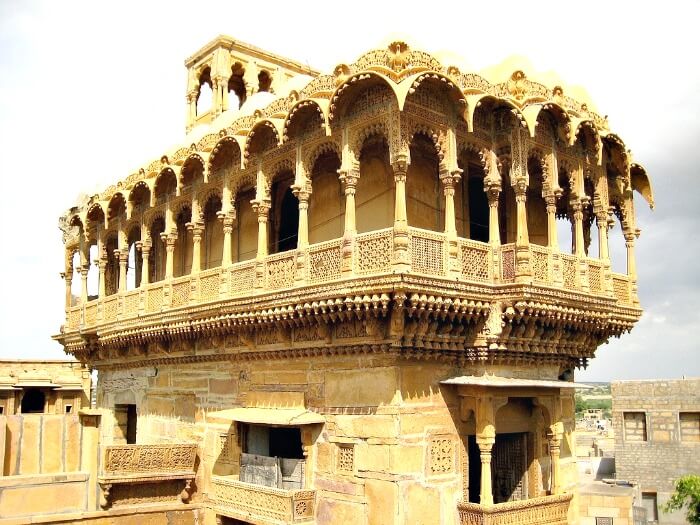 With a roof in the form of a peacock, the entrance of this haveli exudes of tuskers made of sand stones guarding the structure. Slightly different from the other similar architectures of the contemporary times, the haveli has its own artistry. It is also known as Jahaz Mahal as the front of the haveli resembles a ship stern.
Location: Amar Sagar Pol, Jaisalmer, Rajasthan 345001
Key attractions: The architecture in itself, 38 balconies to lose the track of time and space, elephant structure at the entrance.
Opening hours: 8 am to 5 pm
5. Sam Sand Dunes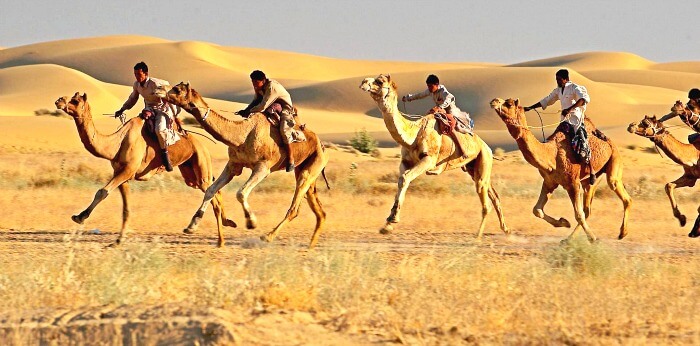 Another name among the places to visit in Jaisalmer offers a vast expanse of sandy soil and sand crests to break. Sam sand dunes allow its visitors to explore the crests and troughs of the dunes while on a camel or a jeep safari. In the evenings, campfires are organized along with folk music and dances that offer glimpses into the rich culture of the city.
Location: Sam Sand Dunes Near Sam Toll Barrier, Right Side On Sam Road, Rajasthan 345001
Key attractions: Golden sand dunes all around, stunning sunset and sunrise views, camel safari, staying in camps
Opening hours: Anytime
---
6. Gadisar Lake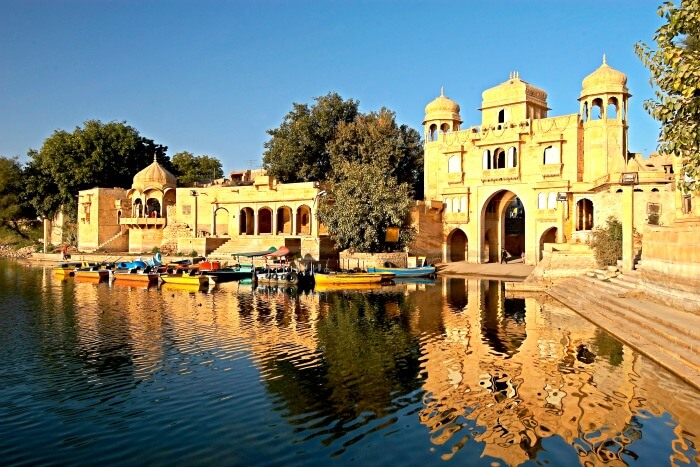 Raja Rawal Jaisal built the Gadisar Lake to meet the water requirements of the then Jaisalmer. Surrounding the lake, beautiful chhatris, temples and holy shrines have been constructed which create a peaceful ambiance for a romantic retreat and have made it a popular name among the places to visit in Jaisalmer.
Location: Near Tilon Ki Gate, Near Jaisalmer Fort, Jaisalmer 345001, India
Key attractions: Yellow sandstone built artistically carved entrance gate, boating in the lake
Opening hours: Always accessible
Suggested Read: 12 Historical Places In Rajasthan That Will Take You Back To The Glorious Past
7. Desert National Park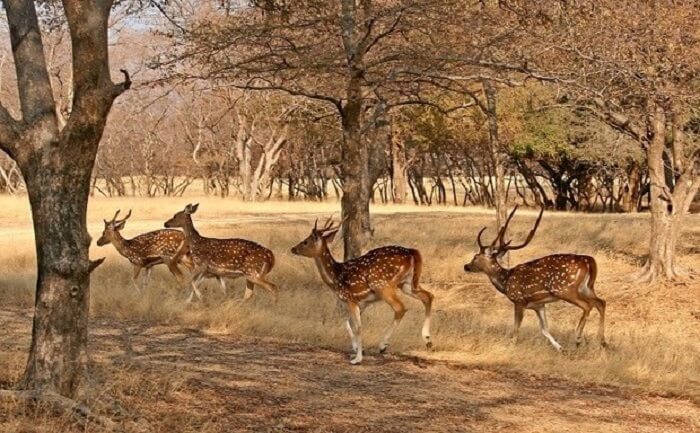 One of the country's largest animal habitat, the Desert National Park is home to unique flora and fauna, typical to desert habitat. Sprawled in a huge area, the park offers an insight into the typical desert vegetation, birds and animals.
Location: Near Sam Sand Dunes, Jaisalmer 345001, India
Key attractions: Magnificent landscape, extinct lakes, and migratory birds, tiger spotting, photography
Opening hours: 10 am to 5 pm
Entry fee: INR 100
8. Sadar Bazaar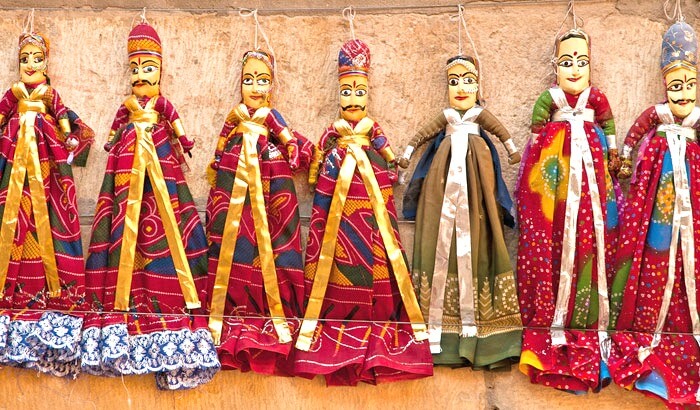 Image Source
Puppets, trinkets, jewellery, Jaisalmer – these synonyms exhibit the vibrancy and joie de vivre of its people and space. Sadar Bazaar – one of the most popular markets of the city is known for selling typical Rajasthani handicraft items. Besides, the shades and variances are delight for life to remember.
Location: Jaisalmer, Rajasthan 345001
Key attractions: Rajasthani ethnicity manifested in clothing, handicrafts, rugs, puppets, jewelry, shawls and many more – tie and dye fabrics in stunning colors
Do try your bargaining skills, though!
9. Silk Route Art Gallery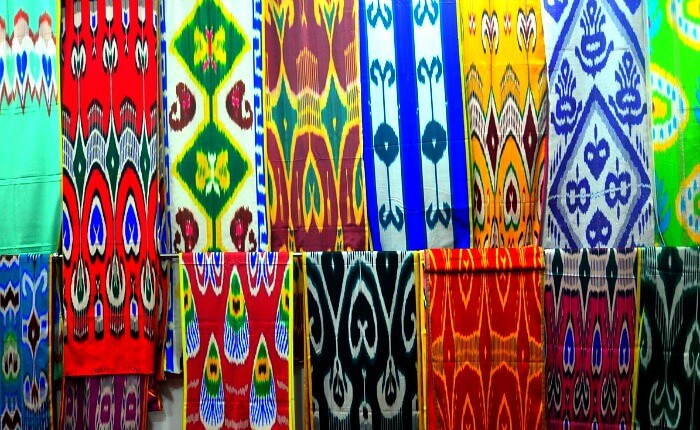 The heritage gallery offers an amazing range of Rajasthani handicraft items, patchwork, antiques, clothes, accessories and many more. Rice culture and vibrancy of the city is evident in its amazing wares where the local artisans and craftsmen weave and create magical threads.
Location: Kalakar Colony, Patwa Haveli Road, Malka Pol,, Jaisalmer, Rajasthan 345001
Key attractions: Items of patchwork, blankets, artificial jewelry, souvenirs and more!
Opening hours: 7 am to 8 pm
10. Sonaron Ka Baas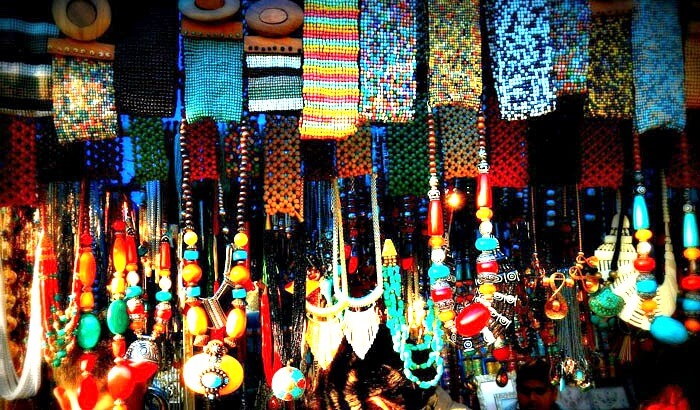 Image Source
A prominent market in Jaisalmer, Sonaron ka Baas is known for its jewelry shops. There is no dearth of jewelry shops that deal with an extensive range of gold and other jewelry option using semi precious or precious stones.
Location: Sunaaron ka Baas, Jaisalkot, Jaisalmer
Key attractions: Diverse range of jewelry using myriad precious stones in gold and silver, jewellery making classes
Opening hours: 10 am to 6 pm
11. Amar Sagar Lake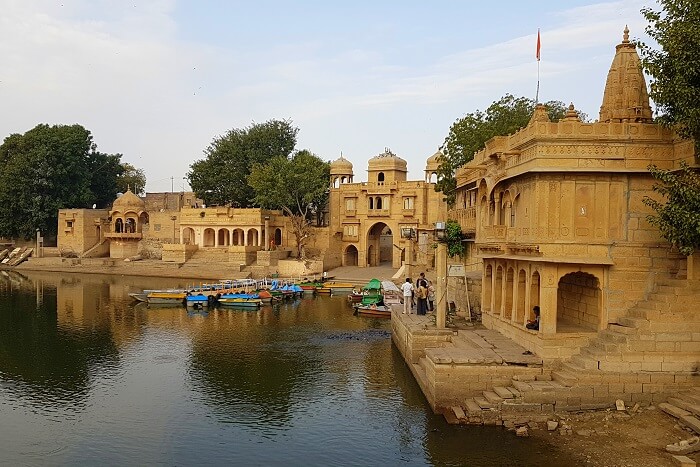 Image Source
Located at a distance of about 7 km on the western outskirts of the Jaisalmer city, the Amar Sagar Lake cum oasis is made up of a series of ponds and wells, as well as old Shiva Temple. Lying adjacent to and a part of the Amar Singh Palace, this lake and temple were built by Amar Singh, while the palace was established by Maharawal Akhai Singh in honor of Amar Singh, his predecessor. One can easily venture into the lake with the help of the stairs built near the palace for this very purpose. One can also spot a number of birds around this lake, which makes it a birdwatcher's paradise.
Location: 5 KM on Sam Road, Jaisalmer, India
Key attractions: Shiva Temple, birds, Amar Palace
Opening hours: 9 AM to 5 PM
Entry fee: None
12. Kuldhara Village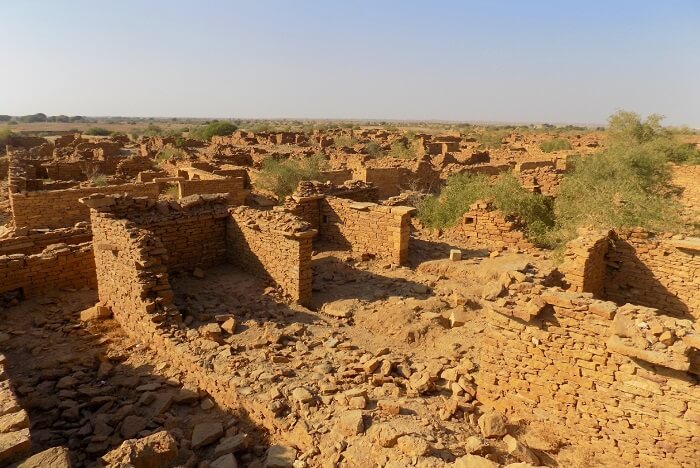 Image Source
Situated a mere 18 km away from Jaisalmer, Kuldhara is an abandoned village that has now come to be known as the ghost town of Rajasthan. The village has been lying abandoned for a few centuries now and there is absolutely no sign of human life. Owing to the tag of 'haunted' attached to this village, it has turned into one of the most significant tourist attractions near Jaisalmer. Consisting of more than 85 villages a long time ago, Kuldhara was once home to the Paliwal Brahmins.
It is said the natives simply picked their belongings and left the village within a single night due to some adverse (maybe even paranormal) happenings. There are no traces as to where the villages went when they left, but one can only assume they took shelter in the nearby villages. It is also believed that the villages put a curse over the village before leaving, because of which there neither have been any human settlements in the village and nor has anyone been able to stay here for the night.
Location: On the road to Sam Sand Dunes and Thar Desert, Jaisalmer 345001, India
Key attractions: A look at the centuries-old village life, rustic surroundings
Opening hours: 8 AM – 6 PM (advised timings)
Entry fee: INR 10 per person
Further Read: Get The Rajasthani Bohemia On! 8 Amazing Shopping Places In Jaipur
It is truly a magical land where people enjoy their life up to the hilt. Trust me you, Jaisalmer is one of those few excuses which will bring back the beauty of living. So, do visit the royal sands and create memories forever in these amazing places to visit in Jaisalmer. Plan your Rajasthan getaway with the help of TravelTriangle right away.
---
Source:
Website: https://traveltriangle.com
Author Name: Arpita Mathur
Link to Native Article: https://traveltriangle.com/blog/places-to-visit-in-jaisalmer/

---
Jai Hind, Vande Mataram
Team CA Study