\
1. Not Just Alexa: Even Apple & Google Employees Listen To Your Voice
Smart speakers like Amazon's Echo and Apple HomePod are hearing your conversations and probably recording them as well. But what you might not have known is these companies have humans sitting behind the desk and listening to your chats.
This has been reported by Bloomberg on Thursday, which says that Amazon has thousands of people on board, who're basically there to listen to users' conversations, transcribe them and feed it back into software, to help Alexa learn human interaction better.
After all, that's how machine learning adapts itself, where humans feed information into machines, in this case Alexa, the voice assistant. So, the next time you hear Amazon saying 'all the Alexa recordings are kept on the cloud' it's going to be hard to believe them.
The report further elucidates that Amazon has set up its team across different parts of the world, including India, where most of the Echo smart speakers are available to the consumer.
Speaking anonymously to the news site, these people are said to be working over nine hours, where they end up going through over 1,000s of recordings, check them for mistakes and send it back to respond. But their work patterns end up making them listen to conversations which were supposed to be private, and sometimes even upsetting.
Such conversations are shared in the internal chat rooms by the employees, who're asked to reveal the details to relieve their stress.
In its defence, Amazon says only a small sample of Alexa recordings are annotated, but just the admission is likely to spook users of such devices even more.
Amazon mentions that every time a user activates an Echo device by saying the trigger word 'Alexa', the voice assistant records everything you say to it and stores it at the back-end.
The device does not have the permission to record or send any data unless the user says the voice assistant's trigger word. There must be times when an acoustic aberration might trigger Alexa whereby it starts speaking random gibberish, but that is an anomaly and happens rarely.
Simply saying, two people could be talking about the Tata Hexa or Maruti Nexa and Alexa might get activated out of nowhere. It has happened with many.
More Culprits Out There
But Amazon would say it's not alone. Another report from BBC cites Apple and Google also have humans at their end who're listening to conversations of users with their respective smart speakers.
And in case of Google and Apple, not only are speaker conversations being heard, even the Assistant (Siri, Google Assistant) running on phones (including iPhone) are also being reviewed. To make things feel safer, both these companies seem to have fool-proof security measures, to make sure the identity of the said user and his/her conversations are not recognisable.
Siri, according to Apple resets itself as and when the voice assistant is turned off.
While Amazon doesn't let you opt out of voice recording or human reviews, just like Google and Apple, users get the power to delete the chats via multiple steps which are listed on the company's support page.
In all, it would be unfair to single out Amazon's Alexa as a culprit. The fact that it is listening to your conversations and recording data can be considered a necessary evil for the technology to work.
In the end, users have to be responsible and have to be circumspect and vigilant on how they use technology. Because, 'they' are listening.
---
Looking for the Perfect Smartwatch? Here Are a Few Worth Trying
It was just last year that I started regularly using a smartwatch not only as a fitness tracker, but as a daily wear fashion accessory. Gradually, I realised that it has become an important part of my ecosystem and I was dependent on my smartwatch for my daily activity tracking, answering the phone and reading texts and emails.
Seeing there is a huge potential in this segment, a lot of companies are now jumping in to provide different kinds of people with a smartwatch that specifically suits them.
Here's a look at some that we sampled.
Toreto Bloom
The Toreto Bloom smartwatch is the most basic offering on this list and something that people on a budget can consider. The Bloom sports a metal body that kind of looks strikingly similar to an Apple Watch.
The 1.3-inch display though small manages to squeeze in most of the information like step count and calories burned.
Though the watch has a strong suite of features inside, I wouldn't bet big on its accuracy. It is IP68 water resistant and comes with silicon straps for a good fit.
Apart from this, the company claims that the watch can test blood pressure, track heart rate and offer calorie burning readings.
It runs on both Android and iOS and has been priced at Rs 3,499 but can be bought online for as low as Rs 2,999.
Ojoy A1
Here's something for the kids and especially for the parents who want to keep a close eye on the whereabouts of their children and at the same time make it look cool.
First look at the Ojoy A1 smartwatch tells us that its meant only for kids. At 51 grams and a plastic body, it doesn't take a toll on the child's wrist and the 1.4-inch retina display is perfect for the colourful animation the watch's OS has to offer.
The Ojoy A1 offers SIM card support, and 4G connectivity and even on-board GPS to track the child via the watch's native app. It even comes with a dialer which supports only 10 callers and has been bundled with an SOS button for emergencies.
It's IP68 waterproof and comes with a 2-megapixel front camera. But I really don't know what that camera is for as the selfies clicked are quite low-res.
The 800mAh battery inside can provide ample backup for more than a week and it also comes with all the essential fitness tracking features like step count and exercise tracking. Not that kids need all that information.
The Ojoy A1 comes with a box price of Rs 12,999, but alternatively is available online for Rs 9,999.
Honor Watch Magic
The Honor Watch Magic is a perfect smartwatch for the ones looking for utility as well as aesthetics. It's well priced at Rs 12,999 and is a good, long lasting companion for your smartphone.
In terms of the design, the Honor Watch Magic can easily be pulled off as a classic analogue watch that looks retro yet it offers multiple watch faces and straps which makes it versatile.
It sports an AMOLED display which is vibrant even under direct sunlight. The watch has excellent battery life and can easy last 7 days with a full charge and on-board GPS running.
It has an extensive array of apps and fitness tracking features that make it the perfect fitness companion.
The only thing that bothered me is that it doesn't support caller ID and that is a deal breaker for many. At this price point, it is one of the best smartwatches you can buy out there.
Fitbit Versa Lite
Fitbit launched the Fitbit Versa last year and the smartwatch received a good response back then. Now, the company is offering a lighter and a cheaper version of the same dubbed the Fitbit Versa Lite which has been priced at Rs 15,999.
The Versa Lite sports an identical design to the Versa. However, it comes with more colour options. The 1.3-inch colour display remains the same as do most of the watch features.
The Fitbit Versa Lite does not offer on-board storage for music nor does it support NFC. It is a good looking watch and its water-resistant capabilities means you can take it for a swim as well.
The Versa Lite offers 4-day battery life. However, it misses out on on-screen workouts which I feel is a big miss.
Armani Exchange Smartwatch
And finally, for the aspirational segment of the user base, which is looking for brand value and utility at the same time we have the Armani Exchange digital smartwatch.
Brand Armani usually comes with a heavy price tag attached to it and so does the Armani Exchange at Rs 22,495 (starting price).
Not a watch that screams "drop dead gorgeous", but it does look good on one's wrist. You'll need to customise the fit according to your wrist if you want the sensors at the back to do justice to the watch's fitness tracking features.
It comes bundled with Google's Wear OS which on the Exchange felt a bit buggy and slow to respond. The dial on the right of the watch face helps navigate the interface. A feature I liked.
It sports a gorgeous display and comes with multiple watch faces to set according to your mood.
The 300mAh battery inside is underwhelming and gave me only one day of usage time, which is a big bummer for this watch.
However, the corporate class is going to love this smartwatch.
---
WhatsApp Dark Mode Spotted in Beta Test, Here's a Quick Look
Many applications and social media platforms are steadily adapting Dark Mode for their user interface primarily because of user convenience. After the likes of YouTube, Gmail and Twitter, it's time for messaging platform WhatsApp to welcome this feature.
According to WABetaInfo, the beta version of the app has been seen testing the Dark Mode and it is possible WhatsApp will receive Dark Mode in the days to come.
The feature was first spotted by the testers at WABetaInfo in the Android beta version 2.19.82 which apparently comes with the dark mode.
Application of Dark Mode provides lesser strain to eyes and also contributes to power efficiency in devices and since WhatsApp is one of the most extensively used applications in the world, this addition will surely help with saving some battery juice.
Although the spy shots of the features were taken in the Beta version on iOS, it is confirmed that work for the Android version has begun. The report also states that currently the dark mode has only been implemented on the Settings page of the app.
Additionally, the report also mentions that the dark mode "won't be OLED friendly but it's based on a very dark grey colour."
No news on when the feature will be rolled out in the final version of the app although WABetainfo says it will take some time as the feature still needs a lot of development.
---
New Fast-Charging Tech Can Charge a 4,000mAh Battery in 17 Mins
Where smartphone batteries are getting bigger, the charging time for these batteries is getting longer. To tackle this problem, many smartphone makers have been bundling fast-charging tech with their phones, and this has helped to a certain extent.
But now, Chinese smartphone maker Xiaomi claims to be taking fast-charging to a whole new level.
As per a video posted by the company's president Lin Bin, Xiaomi has developed a tech that is capable of fast-charging a flat 4,000mAh battery in just 17 minutes.
As shown in the video above, Xiaomi pits its 100W fast-charging solution up against rival Oppo's 50W fast-charging smartphone with battery capacity of 3,700mAh battery.
As per the video posted on Weibo, Xiaomi's phone took just 17 minutes to charge from 0-100 percent, while in the same amount of time Oppo's phone was able to charge 65 percent.
It is expected that Xiaomi will incorporate this technology in its upcoming smartphones very soon. Also, it's possible that the company will talk more about this solution at its event today where it is said to be launching its lightest laptop.
Dubbed the Mi Notebook Air, the upcoming gizmo is expected to be powered by the 8th gen Intel processors and the latest Nvidia GeForce MX-series graphics processing unit. In terms of the pricing, expect the Mi Notebook Air to be priced around CNY 4,999 in China (Rs 51,200 approx).
---
Microsoft Office Files Can Now be Edited Online via Google Docs
People who're involved in the editing or even mailing business, both Microsoft and Google have good news this week. If you're using documents on Microsoft Office, that is, '.doc files', you can edit content of those files on Google Docs itself.
Docs is Google's online platform, linked to a user's Google Drive account on the cloud. Prior to this, people using .doc files had to convert them in order to make it compatible to edit on Google Docs, but now that won't be necessary.
As mentioned in this report, the feature compatibility will be available to a limited set of users for now, but a global availability would only happen next month.
Office Files You Can Edit on Google Docs/Sheets/Slides
Word files: .doc, .docx, .dot
Excel files: .xls, .xlsx, .xlsm
PowerPoint files: .ppt, .pptx, .pot
This might not be a big deal for everyone, but professionals will surely be pleased to know that their time in switching between apps can be saved. But Office files aren't the only ones to get Google Docs support this year.
Dropbox, the cloud storage provider, also started letting its users edit files on Google Docs within the cloud storage app, available for both Android and iOS users.
Cloud storage apps have become the go-to source for many users across the globe, with Google Drive and even Dropbox, along with Apple's iCloud being the primary options considered. In such cases, it's important that these platforms offer convenience to their users, by offering more native features, rather than asking them to use it separately.
---
Reliance Jio Launches JioNews With Magazine and Live TV on Mobile
With India heading into General Elections over the next two months, Reliance Jio is tapping into the newsy climate with its own JioNews app, available on both Android and iOS users in the country.
The app gives access to news from different media houses in the country, letting them read electronic versions of international magazines, as well as Indian magazines like the Caravan.
If you are a Jio mobile user, all these features can be availed by signing in with your mobile number, something which also works for people on JioTV and Jio Cinema app. But it's not just the digital content, you can also stream up to 150 news channels and their live coverage from the app on your mobile screen.
Opening the app, you get to choose language options, in which you want to read and see news content from. As you can see here, JioNews supports most varied languages that are consumed in different parts of the country. In terms of news TV channels, you get access to all popular platforms like NDTV, CNN NEWS 18 and even BBC World for that matter.
The app seems to be available as a free trial for 90 days and it'll interesting to see how Reliance Jio decides to price it after that.
In terms of content, you can choose subjects or titles around which news can be curated on your main page. Top stories, cricket, lifestyle, health and careers are some of the options to pick. The app interface is fairly simple, with a colour mix of white and red making it pleasing to read content on the platform.
It's fairly obvious that JioNews works out as an alternative to Google News and even Apple News, with most of the content picked up from other media houses. This makes it another news aggregator platform.
Strangely, Jio doesn't mention anything about JioNews supporting its JioPhone range of devices. This feature may roll out in the coming months.
---
Redmi Note 7 to Go on Open Sale in India From Tomorrow via Flipkart, Mi.com: Price, Specifications
Redmi Note 7 will be available to all India users in an open sale format starting tomorrow. The phone will be available 24×7 on Flipkart and Mi.com from 12pm (noon) IST. Before this, the phone was made available in flash sales every week. The Redmi Note 7 was launched in India in February, and the India variant foregoes the 48-megapixel rear camera. It features a Snapdragon 660 SoC, a 4,000mAh battery, a dual camera setup on the back that houses a primary 12-megapixel sensor with a secondary 2-megapixel depth sensor, and rear fingerprint scanning support.
Xiaomi has now announced that the Redmi Note 7₹ 10,976 will be available in an open sale format moving forward. The sale will begin on Flipkart, Mi.com, and Mi Home stores from 12pm (noon) IST tomorrow.
Redmi Note 7 price in India
Xiaomi has priced the Redmi Note 7 starting Rs. 9,999 for the 3GB + 32GB version. The 4GB + 64GB model will carry a price tag of Rs. 11,999. The Redmi Note 7 was launched in three colour options – Onyx Black, Ruby Red, and Sapphire Blue. To recall, it was launched in the country besides the Redmi Note 7 Pro.
| | |
| --- | --- |
| Redmi Note 7 Model | Redmi Note 7 Price |
| 3GB/ 32GB | Rs. 9,999 |
| 4GB/ 64GB | Rs. 11,999 |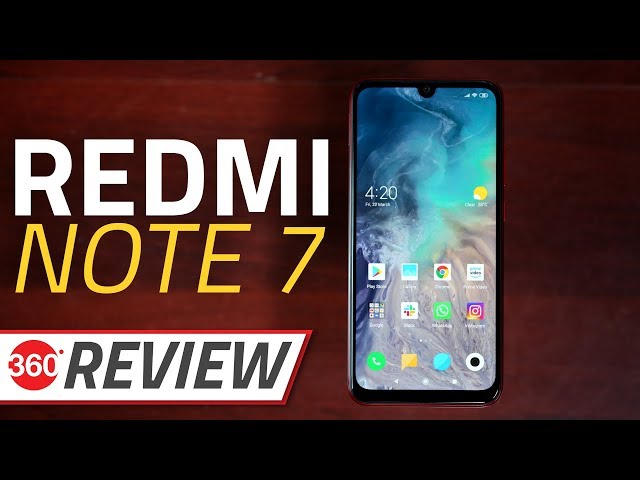 Redmi Note 7 specifications
The Redmi Note 7 sports a 6.3-inch full-HD+ (1080×2340 pixels) screen with 19.5:9 aspect ratio, Gorilla Glass 5, and waterdrop-style notch. The phone is powered by Qualcomm's Snapdragon 660 octa-core SoC and packs 3GB/ 4GB of RAM. It also includes 32GB/ 64GB of inbuilt storage and a microSD card slot (up to 256GB) for further expansion. Additionally, the company has added a 4,000mAh battery with Quick Charge 4.0 support, rear fingerprint sensor, USB Type-C port, 3.5mm audio jack, and dual-SIM support (hybrid). In terms of the connectivity options, the Redmi Note 7 comes with Wi-Fi 5, Bluetooth 5.0, and Infrared.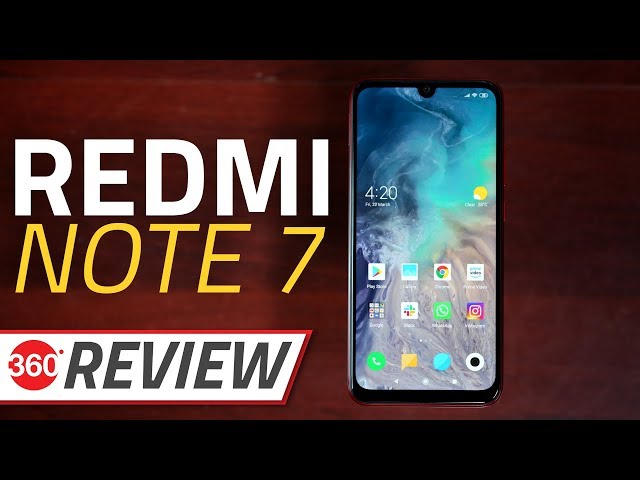 Moving to the imaging capabilities, which Xiaomi highlights as one of the strong points of the phone, the Redmi Note 7 features a dual camera setup on the back that houses a primary 12-megapixel sensor (with 1.25-micron pixels) with a secondary 2-megapixel depth sensor. In China, the company used a 48-megapixel Samsung ISOCELL GM-1 sensor and a 5-megapixel depth sensor on the Redmi Note 7. There is a 13-megapixel front shooter on-board as well – the same as the China variant. The company claims that the camera app on the Redmi Note 7 uses artificial intelligence (AI) to offer a better portrait mode, smart beauty features, and scene recognition support.
On the software front, the Redmi Note 7 runs on Android 9 Pie with MIUI 10, which includes features like Face Unlock as well as a number of software enhancements.
Redmi Note 7 and Redmi Note 7 Pro₹ 19,999 are going to be very important smartphones for Xiaomi in India as the company gears up for increased competition from the likes of Samsung, which is getting ready to flood the market with affordable phones with enticing specifications, right from Xiaomi's playbook.
---
Vodafone Brings Rs. 16 Prepaid Recharge Plan With 1GB Data for 24 Hours
Vodafone has brought a Rs. 16 prepaid recharge plan called "Filmy Recharge". The new Rs. 16 prepaid recharge plan brings 1GB 2G/ 3G/ 4G data for 24 hours. Notably, the latest data-only option is initially rolling out in select circles, including Assam, Goa, Gujarat, and Maharastra circles. The Rs. 16 Vodafone prepaid recharge plan is available through Vodafone.in, My Vodafone app, and authorised retailers. The operator also has other data-exclusive plans under the denomination of Rs. 33, Rs. 49, and Rs. 98 among others.
As per the official listing on the Vodafone.in website, the Rs. 16 Filmy Recharge brings 1GB data for 24 hours. The bundled benefit is aimed to let the subscribers watch movies and videos for a whole day.
Notably, the Rs. 16 Vodafone prepaid recharge plan doesn't include any voice or SMS benefits. It also comes with one-day validity. This means the new option can't be used to extend the validity of your account.
We were able to spot the Rs. 16 Vodafone prepaid recharge plan in circles such as Assam, Gujarat, Haryana, Jammu & Kashmir, Karnataka, Kerala, and Maharashtra and Goa among others. However, it is yet to reach all the Vodafone circles in India. TelecomTalk first reported the new development.
In addition to the Rs. 16 prepaid recharge plan, Vodafone is offering data-exclusive plans such as Rs. 28, Rs. 33, and Rs. 49.
Last month, Vodafone brought a 'Youth Offer' to provide a 50 percent discount on Amazon Prime subscription to its prepaid subscribers. The operator also recently updated its Rs. 509 prepaid recharge plan with 1.5GB data per day for 90 days. That option was previously offering 1.4GB data per day.
---
Facebook Messenger Officially Gets Dark Mode Globally, No Need to Send Moon Emoji
Facebook in a blog post announced that the dark mode feature for its Messenger app is now rolling out officially for users across the globe, and doesn't require users sending an emoji to activate it. Since last year, Facebook has been teasing its highly anticipated dark mode feature for its Messenger app. The company first announced the much-awaited feature in October last year with a promise to roll out the feature soon. Four months later, the feature did show up as it was silently rolled out to users in several countries including India in the form of an Easter Egg – sending the moon emoji activated it.


To activate the new feature, simply open Facebook Messenger on your phone. Now, tap on your profile photo to access settings and on the next screen, you'll now notice a dark mode toggle that sits right below your name. Toggle it on and voila! Your screen will turn from white to black signifying that you just activated the dark mode. 

 According to Facebook's blog post, by turning on the dark mode on Messenger, the brightness of the screen is lowered all while maintaining contrast and vibrancy. Additionally, it cuts down the glare from your phone for better usability in low-light situations. 

Dark mode for messenger was first spotted last month when the company launched the feature in the form of a hidden Easter Egg for users in a few select countries. So whenever a user sent a moon emoji in a chat, a message at the top would pop-up stating, "You found dark mode". And after turning it on, Facebook displayed a message saying it's still working on this feature so you won't see dark mode everywhere in the Messenger app. It was spotted testing in select countries in January.
---
---
Source:
https://gadgets.ndtv.com
https://www.thequint.com
https://www.gadgetsnow.com
---
Jai Hind, Vande Mataram
Team CA Study