Hello Everyone,
The much-awaited date (For Students, not ICAI), 23rd September 2019, Students & Faculties began protest against ICAI for Wrong Evaluation of Examination Copies.
CA Study brings to Students all the major news coverage, Twitterati Reactions, Pictures & Live Coverage of PROTEST : DAY ONE.
Disclaimer: All the News, Tweets, Images, Videos Shared below belongs to respective owners & CA Study does not own it in any way. The Only Motto is to bring together everything in one place.
MAJOR NEWS HOUSE COVERAGES
AAJ TAK
इंस्टीट्यूट ऑफ चार्टर्ड एकाउंटेंट्स ऑफ इंडिया (ICAI) परीक्षा देने वाले उम्मीदवारों ने सोमवार को ITO के पास मुख्यालय में ICAI के खिलाफ विरोध प्रदर्शन किया. ये उम्मीदवार पेपर के मूल्यांकन में त्रुटि का आरोप लगा रहे हैं. साथ ही ये लोग पेपर फिर से जांचने की मांग कर रहे हैं.
दिल्ली के आईटीओ (ITO) के बाहर स्थित Institute of Chartered Accountants of India मुख्यालय के बाहर अभ्यर्थी विरोध प्रदर्शन कर रहे हैं. प्रदर्शन करने वालों में वो छात्र शामिल हैं जिन्होंने इसी बार ICAI की परीक्षा दी है. अभ्यर्थी पेपर की जांच में गड़बड़ी का आरोप लगा रहे हैं. छात्रों ने पेपर को दोबारा चेक कराने की मांग भी की है. छात्रों का कहना है कि पेपर चेक करने में भूल हुई है. उम्मीदवार पेपर दोबारा चेक कराने की मांग कर रहे हैं. अभ्यर्थियों का आरोप है कि इस गड़बड़ी से बहुत सारे छात्रों का भविष्य दांव पर लगा है. कठिन परिश्रम से छात्र इसकी तैयारी करके ये परीक्षा पास करते हैं.
Correction: Candidates who had appeared for Institute of Chartered Accountants of India (ICAI)* exams protest against the ICAI at its headquarters near ITO, alleging error in evaluation of papers, & demanding rechecking of papers. (Original tweet will be deleted). #Delhi https://twitter.com/ANI/status/1176075579314950144 …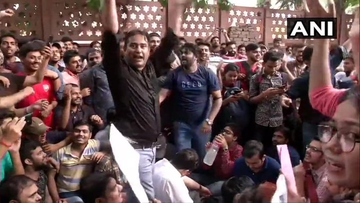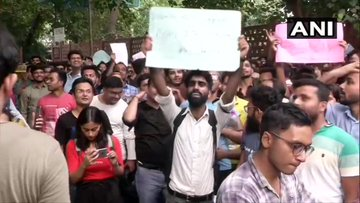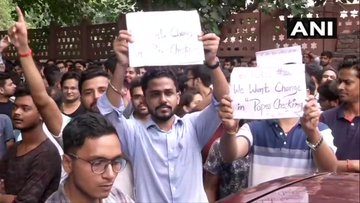 बता दें कि 8 फरवरी को सीए इंटरमीडिएट परीक्षा 2018 (CA Intermediate Exam 2018) का रिजल्ट निकाला गया था. फिर नवंबर 2018 में हुई परीक्षाओं के नतीजे घोषित करने के लिए ICAI ने अपनी आधिकारिक वेबसाइट में नोटिस भी जारी किया था. CA Intermediate Exam 2018 के जारी किए जाने वाले नतीजों को ICAI की आधिकारिक वेबसाइट icaiexam.icai.org के अलावा caresults.icai.org और icai.nic.in पर रिजल्ट डाला गया था. अभ्यर्थी सीए के लिए ली जाने वाली इन परीक्षाओं में जांच में बड़ी गड़बड़ी का आरोप लगा रहे हैं. फिलहाल अभी तक उन्होंने ये धरना प्रदर्शन वापस नहीं लिया है.
Link to Native Article – https://aajtak.intoday.in/education/story/chartered-accountant-protest-at-icai-headquarter-ito-delhi-tedu-1-1122452.html
NATIONAL HERALD
ICAI students protest across states, demand reforms in evaluation
Thousands of students protested against the Institute of Chartered Accountants of India alleging error in evaluation of papers, making #dearicaipleasechange and #ICAIReforms trend on Twitter
Thousands of students on Monday gathered to protest against the Institute of Chartered Accountants of India (ICAI) alleging error in evaluation of papers, reported Hindustan Times. At ICAI Delhi, over 1000 people came out expressing their dissatisfaction at various mishandling of evaluation by the ICAI.
Two days back, ICAI had published an announcement on its website that read, "It has been brought to our notice that certain adverse reports relating to the system of evaluation of answer books of CA exams are doing the rounds on social media. In this connection, the following reforms which have been put in place recently are brought to the attention of the stakeholders in respect of the ICAI examination system."
The candidates who are now protesting at the ICAI office near ITO Delhi allege that they were not given stepwise marking while many allege that in multiple-choice-questions (MCQ) they were not given any marks even to those with correct answers.
A tweet by a candidate says the students want the following demands to be taken seriously by the ICAI:
1) Re-Correction
2) Give Ques Booklet of MCQs and Disclose correct Answers while providing certified copies
3) Penalize Paper Checkers for wrong checking
4) Dark the MCQs With Pen In exams
5) Centralised Evaluation
According to a Twitter user, in the subjective papers of CA exams, there have been many cases where that examiners have allegedly checked exam copies carelessly, given exam copies to unqualified checkers to get it checked. Many CA students allege that only 3-4 pages of exam copies have been checked at times and rest were left allegedly unchecked. There are cases when even MCQs have been incorrectly checked.
Unlike CBSE, where a rule states that examiners have to gather at one place to check answer sheets, ICAI answer sheets are checked by examiners who can get it checked by anyone and anywhere.
Till 2018, there was a clause in the CA act which did not allow you to even show your certified copy to anyone, which was revoked last year after protests.
Moreover, even if a student has some doubts about his result and marks, he can't even apply for re-evaluation. The agitating students emphatically said that they had only one demand that the students can have their papers re-evaluated/rechecked. If this is not possible then ICAI should have all papers in MCQ form on OMR sheets.
Many who deserved to pass have been failed just due to this. Many are stuck in this course forever. Many have died of suicide, the protesting candidates rued.
Link to Native Article – https://www.nationalheraldindia.com/india/icai-students-protest-across-states-demand-reforms-in-ev
YOUTUBE UPLOADS & MESSAGE BY CA PARVEEN SHARMA SIR
SOME OF THE TOP IMAGES SHARED ONLINE –
TWITTERATI REACTIONS
Soon after #dearicaipleasechange went trending on twitter, it became a matter of everybody's interest.
The Top Tweets are as below –
---
Led by Respected CA Parveen Sharma Sir. This protest is sure the final shot before something Big. We believe this protest was need of the hour as nothing will change until someone determines to Change it.
With this said. The glimpses of PROTEST : DAY ONE ends here. We will update tomorrow again.
Stay Connected for more such updates.
Jai Hind, Vande Mataram
Team CA Study